(Clearwisdom.net) The Miaoli County government held an activity to commend model parents on October 10, 2009. These model parents are also single parents who work extra hard for their families.
Liu Cheng-Hung, Head of Miaoli County (fourth right) and Falun Gong practitioner Chen Li-Yan (fifth left).
Among the 28 model single parents, Falun Gong practitioner Chen Li-Yan lost her husband in a car incident. She raised two infants alone with tremendous economic pressure on her. Many years later Chen remarried and had a third daughter. Her oldest daughter from previous marriage did not get along with her step father and their house was at war every day. Chen ended divorcing her second husband. She missed her third daughter so badly that she cried everyday.
Chen found Falun Dafa when she was 45 years old. It was the turning point of her life. She understood how to be happy in tribulations because nothing was accidental. She faced her hardships bravely.
Chen believes Falun Gong allows her to know what life is about. After learning the principles of Truth-Compassion-Forbearance, she became more open-minded and could face problems more calmly. Her third daughter came back to her after she started practice Falun Gong.
Tsao Ching-Tsong is another model parent who is a Falun Gong practitioner. He started the practice in July 1999. Before that, he had bad physical problems. He had suffered duodenal ulcer, stomach ulcer, liver fibrosis, bile duct stone, and depression. He couldn't live without his medications for six years. He smoked and drank obsessively. He was anxious and ill-tempered. He could not go to sleep without sedatives. He lived a bitter life.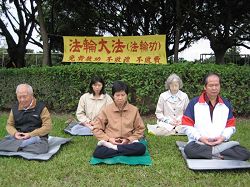 Tsao Ching-Tsong (right first) does the Falun Gong exercises.
Ten years ago Tsao retired early. The next day after he retired, he went to a park and heard peaceful music. He followed the music and saw practitioners' doing exercises. He read the fliers and listened to a practitioner introduce Falun Dafa to him, he felt so close to the practice that he learned the exercises right then. He couldn't wait to read Zhuan Falun after he got home. A warm thought streamed in his head no-stop. He was so excited that he found the treasure he had long sought.
After Tsao attended the nine day lecture class, he quit smoking and drinking. Three months afterward, he accidentally ate something he wasn't supposed to and he realized that his stomach did not hurt! A year later his ulcers and liver problems disappeared. He no longer needs sleeping pills.
Tsao was grateful to Mr. Li Hongzhi, founder of Falun Dafa, who gave him a second chance. Now he feels great and his family is happy and harmonious. His relatives and neighbors are surprised to see dramatic changes in his health and characters.
In 2006 and 2007, Tsao was awarded model father in Taipei County. He told people that because of Falun Dafa he became a good husband and a good father.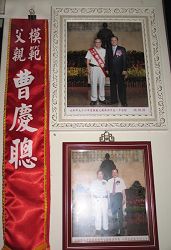 Tsao and Mayor of Yong-He at the Outstanding Father award in 2006.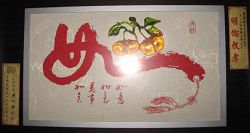 Tsao's award from the 2007 Yong-He City Model Father award.
Tsao often goes to Hong Kong to meet Chinese tourists and talk to them about the persecution of Falun Gong. One time he met a policeman who asked him how much he was paid to do so. He sincerely told the officer he spent a lot of his own money coming to Hong Kong so he could let everyone know about the ongoing brutal slaughter and torture of Falun Gong practitioners.
After learning the facts of the persecution and hearing what happened during the staged self-immolation on Tiananmen Square, the officer's attitude turned soft. He told Tsao he was on duty with his uniform on, it was not appropriate for him to take the fliers. The officers said he would come back later.