(Clearwisdom.net) On December 24, 2008, a group of Thailand practitioners embarked on a five-day journey that spanned 630 miles and covered ten provinces in the nation's Isaan region.
Practitioners demonstrated the exercises on Tao Anusaowaree Plaza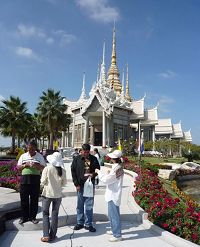 Practitioners clarified the truth at the Temple of Somdej Phra Buddhacharn Promarangsi (Luanpo Tou)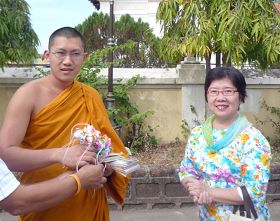 Monk at Pratart Chengchum Temple asked for more materials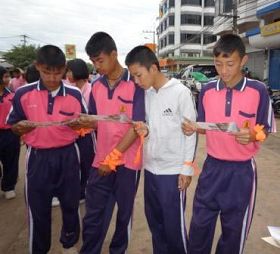 Practitioners explaining the truth at a middle school sports parade, Sakon Nakorn Pattana

Practitioners clarified the facts at Pasak Cholasit Dam
When practitioners arrived at the well-known Pratart Chengchum Temple in Sakon Nakorn Province, a young monk asked for more materials after reading a brief introduction to Falun Dafa. He wanted to pass along the brochures, CDs, bookmarks, and paper lotus flowers the practitioners gave him to everyone that came to worship in his temple. Practitioners also gave him three copies of the Thai language version of Zhuan Falun to place in the temple's library.
When practitioners were about to leave Wat Nong Pa Pong Temple in the province of Ubon Rachathanithey, suddenly heard a crystal clear narration of the Falun Gong exercises in Thai. They followed the sound and found a man sitting on the ground, attentively watching the video in his car. The back door of his car was wide open. He had received a VCD from practitioners before they went into the temple and he had immediately played it in his car. When he saw the practitioners come out of the temple, he asked to learn the exercises right away and was able to cross his legs on top of each other instantly.
At another temple in the same province, Wat Mahavanaram, an elderly woman who had been sitting on the ground, was given a handout that introduced Dafa. She immediately opened it up and began learning the exercises all by herself.
The paper lotus flowers and bookmarks made by the practitioners were popular among the Isaan people. Everywhere practitioners went, locals thanked them for their blessings and hung the lotus flowers and bookmarks in prominent places. At Wat Phratart Phanom Temple in the province of Nakorn Phanom, practitioners distributed a great number of items to many tourists. Before they left, they noticed that a woman vendor had two paper lotus flowers pinned in her hair. She held a practitioner's hands and said excitedly, "With the lotus flowers in my hair, my business has been exceptionally good! I'll wear them all the time!"
We hope our visit brought many blessings to the predestined Thai people!