L.A. Jeweler: Divine Performing Arts Makes the World Better (Photos)
January 04, 2009
|
By Minghui Correspondent Zheng Yuhan
(Clearwisdom.net) The third Chinese New Year Spectacular show by Divine Performing Arts at the Pasadena Civic Auditorium in Los Angeles on January 1, 2009 won high praise from the audience.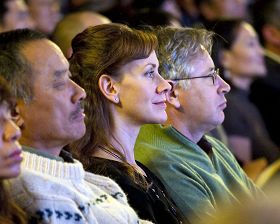 Audience at DPA show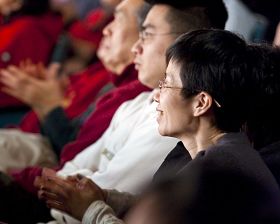 Audience at DPA show
Mr. Ray Garcia, a jeweler in Los Angeles, heard about the DPA show from a friend and came to watch it. Mr. Garcia said the show was very educational and had a lot of spiritual meaning. It made him think about himself, others and this world. He believes the world will be better under the influence of this show.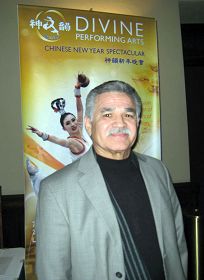 Mr. Ray Garcia
Mr. Garcia said the show inspired him to think about his future. It was what he needed. He would like to spend more time studying Chinese culture and theories.
Fashion designer Mr. Franklin was glad he came to watch the show. He expressed his admiration of the colorful and heavenly costumes and natural dance movements. He said that as a professional fashion designer, he would like to solute the designer of the DPA dancers' costumes. There was no fault to find in the materials. The colors were rich but coordinated, expressing not only the meaning of the program, but also giving the audience a quality experience.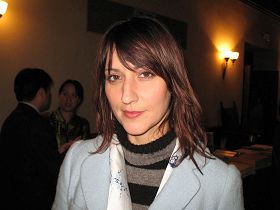 Stained glass artist Ms. Monica Mader
Ms. Mader, a stained glass artist, was entranced by the Spectacular. She was most interested in the traditional aspects of the dance, noting that she found the "women's movements [to be] so beautifully choreographed and ultra feminine." She also appreciated "the men [who] are more dynamic." Ms. Mader said the performances were simply "beautiful." She would like to bring her friends next time she sees the show.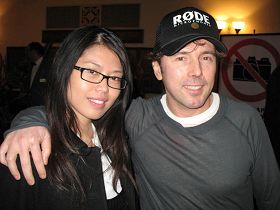 Mr. Damian James and his wife Ms. Angelica Thie
Mr. Damian James is a businessman, musician and actor. His wife Ms. Angelica Thie is a broker. Mr. James kept praising the show as fantastic, brightly colored and lively. It was beyond his expectation. He would like to watch it again next year. He was most touched when he saw the scene about the persecuted (Falun Gong practitioner) lifted to heaven. Ms. Thie loved everything in the show, especially the stories, because they showed compassion.