(Clearwisdom.net) Mr. Jin Youfeng was a physical education teacher. He worked in the Phys. Ed. Department of Mudanjiang City Normal College in Heilongjiang Province. After he went to appeal for Falun Dafa in September 1999, he was fired and then sentenced to three years of forced labor, which he served in the Mudanjiang City Forced Labor Camp. His wife, Ms. Jiang Chunmei, is also a Falun Dafa practitioner. She is a lecturer in the Foreign Language Department of the same college. She was arrested and detained many times. On October 22, 2003, they were both arrested, despite the fact that she was still breastfeeding. Mr. Jin's 75-year-old mother and their two children, one 10 years old and the younger less than 15 months, were left on their own. On the evening of November 26, 2003, the couple was taken to be detained in the Mudanjiang City Second Detention Center. The children were picked up by their relatives.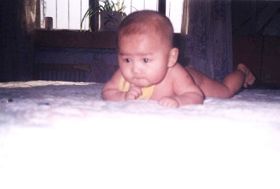 Mr. Jin's younger child was less than 15 months old when Mr. Jin was arrested in 2003
Mr. Jin was tortured during detention with the Tiger Bench. The back of the bench has two holes through which the guards pulled his hands and cuffed them with two pairs of handcuffs. As the guards tortured him, they would suddenly pull his feet, forcing his whole body flat. They then stomped on him and pulled his hair. Mr. Jin was in so much pain that he sweat profusely and his arms swelled.
Mr. Jin was sentenced to 13 years of imprisonment and locked away in the Mudanjiang City Prison. His wife, Ms. Jiang, was imprisoned in the Harbin City Women's Prison. At the end of March 2004, Mr. Jin was tortured in the training ward of the prison He was locked in a Small Cell (1), forced to wear shackles and a "Hand-Stick" Cuff (2), was made to Ride an Airplane (3), and was force-fed water. There was no bedding in the small cell, so he had to sleep on the cold, damp bed board.
On September 4, 2004, the Mudanjiang Prison conducted a forced "transformation" session to brainwash practitioners. The guards would not let the practitioners sleep. Practitioners that were detained there held a group hunger strike on September 9, 2004. The next day, the guards locked Mr. Jin and two other practitioners in the small cells with 40-pound shackles, and "Hand-Stick" cuffs, which were chained to the shackles. They were in a torturous position for 15 days. They were force-fed through very thick tubes. The guards inserted the tubes roughly, intentionally causing pain, and they force-fed large amounts of raw cornmeal and hot chili pepper powder that would overflow and cause the practitioners to choke. They would have diarrhea almost immediately afterwards. The second day after force-feeding, a guard told three prisoners to force-feed Mr. Jin water by pinching his nose closed, then not giving him a chance to catch his breath as they poured in water.
On May 26, 2005, Mr. Jin was taken to be detained in the First Section of the Seventh Ward. The next day, he went to work, but he was handcuffed to the metal bar outside the workshop window. On May 28, he was handcuffed for the entire morning. That afternoon, Warden Zhu Zailing instructed guards to put a handcuff on each of his wrists and hang him by the cuffs from a beam in the corner On May 29, Warden Zhu ordered four prisoners to brainwash Mr. Jin and monitor him closely. Since Mr. Jin still refused to give up his faith, on May 30, 2005, Warden Zhu cursed the prisoners and threatened to not give them any points to reduce their terms. The prisoners then took Mr. Jin to a bathroom, beat his face and lower back, twisted his arms, and kicked his face. Another prisoner, Liu, was assigned to watch him. He did not allow him to sit down.
In the long term brutal mistreatment, Mr. Jin appeared to suffer from severe tuberculosis. His left lung failed, and he showed late-stage symptoms in his right side lung that threatened his life. He was detained in the sick ward, but his treatment was delayed. Before releasing him on medical parole, the guards still tried to force him to sign the Three Statements to give up his faith in Truthfulness-Compassion-Forbearance. He absolutely refused. The prison administration then took him back to prison for ten more months. On June 6, 2008, when he was dying, he was given one year of medical release (to June 5, 2009). He died at 9 p.m. on January 21, 2009, in the Mudanjiang City Contagious Diseases Hospital.
Notes:
(1) Small cell - The detainee is locked up in a very small cell individually. The guards handcuff practitioners behind their backs in a fixed position in which the practitioners can neither move nor lie down. The small cell is very damp and no sunlight comes in. A bucket in the cell serves as a toilet. Only half of a regular meal is served. During the night, rats run free. The stench in the small cell is so bad that it is difficult to breathe.
(2) Hand Stick - The "hand stick" torture is more cruel than a regular handcuff because there is a metal stick between the wrists instead of a chain, so the wrists are held immobile, and as a result, the wrists fester.
(3) Ride an Airplane - In this torture, the head is bent down until it cannot go any further, while the hands are pulled up and held as high as they will go. The hips have to point up. The person is forced to keep this position for a long time. The body in this position looks like an airplane. See illustration at http://www.clearwisdom.net/emh/articles/2004/9/29/52921.html.
Earlier report: http://www.clearwisdom.net/emh/articles/2008/7/22/99161.html