(Clearwisdom.net) On July 24, 2008, the Center District Court of Jining City, Shandong Province unjustly sentenced three Falun Gong practitioners to prison. Mr. Zhou Ning was sentenced to five years, and Ms. Yue Lihua and Mr. Li Ruifeng to three years each. The court neither announced the sentences nor informed the families. The three practitioners are appealing to the Intermediate Court.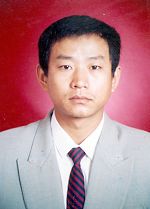 Practitioner Mr. Li Ruifeng
On the morning of July 14, 2008, without a trial date being announced or the families being notified, the Center District Court secretly tried the three practitioners. Since the persecution began in 1999, there have not been any lawyers brave enough to stand up to the pressure of the Chinese Communist Party (CCP) Judicial Bureau and defend Falun Gong practitioners in court. The court expected a quick trial with predefined sentences as usual. But the court was caught off guard because this time Mr. Zhou Ning and Ms. Yue Lihua had lawyers, hired by their families. The court made an excuse to delay their trials, but went ahead with the trial of Mr. Li Ruifeng, which took less than an hour.
At 2:30 p.m. on July 24, 2008, the court convened the trial of Mr. Zhou Ning and Ms. Yue Lihua. Lawyer Mr. Li Subin, representing Mr. Zhou, made the defense that "constitutional rights are supreme, believing in Falun Gong is not a crime." The judge interrupted Mr. Li's arguments many times.
Mr. Zhou Ning protested the judge's unfair interruptions in his self-defense. He also talked about how cultivation in Falun Dafa had improved his body and mind as well as how innocent practitioners were persecuted just for telling people about the mighty power of Falun Dafa and appealing for the right to practice. He ended his defense, "Today I stand here to appeal for justice for my master and practitioners. My master is innocent! Falun Dafa is good! Truthfulness-Benevolence-Forbearance is good! Falun Dafa is the righteous way!" Ms. Yu Lihua echoed his words with "Truthfulness-Benevolence-Forbearance is good!" The judge didn't say anything.
Mr. Zhou Ning, 39, taught Industrial Arts in a special education program for students with hearing disabilities in Jinan City Special Education Technical Middle School. He is also one of founders of the school and its former administrative director. In May 1997, the Chinese Art Museum in Beijing hosted the "Silent Heart Words" wood craft exhibition, displaying artworks done by 28 of his hearing-impaired students. It was a huge success, and six of the works were collected by the Chinese Art Museum. However, just for professing his faith in Truthfulness-Benevolence-Forbearance, this artist and teacher has been arrested many times. He lost his job, his home was confiscated, and he became homeless. He was last arrested in an apartment in Hanxi Village, Center District, Jining City, on September 12, 2007.
Ms. Yue Lihua, 46, lives in the Beimen Community of Center District, Jining City. In October 2002, she was sentenced to two years of forced labor and later an additional two months for renting an apartment to homeless practitioners. At around 8 a.m. on September 12, 2007, officer Guo Hongtao (male) and officers from the Center District Police Department arrested Ms. Yue at her home.
Mr. Li Ruifeng, 44, lives in the Hongxi Community in Center District, Jining City. He used to suffer from second degree hearing loss. After practicing Falun Gong, he made marked improvements. After the CCP started the persecution in 1999, he appealed many times. He tried to use his own experience to tell others that Falun Dafa is good and a righteous way. He was arrested many times, was sentenced to three years of forced labor, and suffered from torture such as the "back cuff," severe beatings, being kept outside in winter, etc.
Mr. Zhou Ning, Ms. Yue Lihau, and Mr. Li Ruifeng are now in the Jining City Detention Center. They have been held there for eleven months.
Guan Shengying (male), director of Jining City Intermediate Court: 86-537-2103666, 86-537-2383438, 86-13562791666 (Cell)
Jia Chuanjian (male), deputy director of Jining City Intermediate Court: 86-537-2103002, 86-537-2384096, 86-13953798686 (Cell)
August 21. 2008