Falun Gong Spokesperson Calls for an End to the Persecution at a US Congressional Forum (Photo)
September 17, 2008
|
By Minghui reporter Li Jingfei
(Clearwisdom.net) On the afternoon of September 12, 2008, the US House of Representatives Subcommittee on Human Rights held a forum in the Rayburn House Office Building. The topic of the forum was human rights conditions in China and other Asian countries after the Olympic Games. Falun Gong spokesperson Zhang Erping was invited to speak at the forum. He said that Falun Gong is a cultivation group and that what its practitioners are most concerned about is putting an end to the Chinese Communist regime's persecution of Falun Gong cultivators.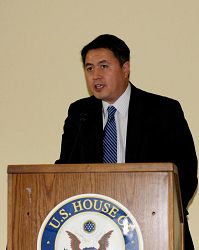 Falun Gong spokesperson Zhang Erping
Zhang said that a variety of sources confirmed that more than 10,000 Falun Gong practitioners were arrested in the run-up to the Olympics. During that time, the persecution intensified. On the surface, the Chinese Communist Party (CCP) seems not to be as blatant as before in its persecution of Falun Gong, but, actually, the CCP's persecution of Falun Gong has never stopped and is even more sinister.
He said that seven weeks before the opening of the Olympics, Eutelsat Communications, a Paris-based satellite operator, broke its contract with New Tang Dynasty Television (NTDTV). As a result, NTDTV has been unable to provide Chinese viewers in mainland China with news uncensored by the CCP. At the same time, in New York and other Chinese communities, the Chinese Consulate instigated mobs to attack Falun Gong practitioners and spread hatred, undermining practitioners' freedom of belief and religion and violating the Constitution.
Zhang called upon the US government to effectively stop the CCP accomplices from spreading hatred and undermining religious belief on US soil and to deport the CCP diplomats who conducted non-diplomatic activities, manipulating the mobs to attack American citizens who practice Falun Gong. He said that the US government is responsible for protecting its citizens and should not turn the US into Beijing's backyard.
He reiterated that Falun Gong practitioners have no opinion on the Olympics or other sports or cultural events. Their concern is for the immediate release of Falun Gong practitioners illegally detained in mainland China, for the persecution of Falun Gong to end, and for the perpetrators to be brought to justice.
Congressman Chris Smith said in an interview that he was puzzled as to why the Chinese Communist regime would have such hatred for Falun Gong, that many people have died as a result of the persecution, and that the regime's mobs even attacked practitioners in the US and other regions. From a video of the incident that took place in Flushing, New York, he could see that the CCP is determined in its persecution of Falun Gong. "This is not an act of a mature, steady, and confident government, but just exposes its weakness and cowardice."
Representatives from over a dozen groups and organizations--including Amnesty International, a Tibetan group, and Human Rights Watch--testified at the forum. They voiced their concerns regarding the CCP's human rights abuses prior to and during the Olympic Games and its worsened human rights records after the Games concluded. Participating organizations called upon the international community to continue to exert pressure on China and other totalitarian regimes in Asia, to stop them from continuing to persecute people. Several veteran congressmen expressed their concerns over this issue.