(Clearwisdom.net) Ms. Chen Yumei's body was cremated on July 6, 2008. She was illegally arrested on the evening of July 3, 2008, and brutally beaten by officers from Chang'an Police Station in Dadong District, Shenyang City, Liaoning Province until she passed out. She died on the evening of July 4, 2008, at age 48.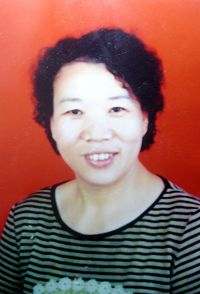 Ms. Chen Yumei
Ms. Chen Yumei lived at 223 Wanquan Neighborhood, Pangjiang Street, Dadong District. She and her husband made their living by running a convenience store and watching the neighborhood garage. At around 7:30 p.m. on July 3, 2008, police officers arrested Ms. Chen near her home soon after she left. They punched and kicked her until she passed out on the street. Many bystanders witnessed the brutality.
At around 9:20 p.m. on the same evening, several officers from the Chang'an Police Station came to her home and said that Ms. Chen had passed out and was in the ambulance outside their door. They wanted her family to identify her while she was unconscious.
When her family took her to the hospital, these officers surrounded Ms. Chen's home near the neighborhood garage. Officers prevented other family members from entering or exiting, and ransacked the home. They took a notebook computer, a DVD player, and several thousand yuan in cash.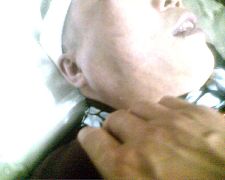 Ms. Chen Yumei in the hospital after being beaten by police
Ms. Chen was taken to the #463 Military Hospital. The doctor found severe bleeding in her skull, and said an operation must be performed immediately. After the four-hour operation, she remained unconscious. Her family saw that her arms and legs were covered with bruises, and her body had severe scratches as a result of being dragged on the ground. The doctors said that the marks were caused by being beaten or dragged. They spent 20 hours trying to revive Ms. Chen in vain, and she died at around 8:30 p.m. on July 4, 2008. The distraught family now must pay the 20,000-yuan medical fee.
Ms. Chen's family said that she left home a healthy lady, but died within 24 hours from police brutality. The Neighborhood Administration gave 100 yuan to the family on July 5, 2008, as its "gesture."
On July 6, 2008, Chen Yumei's family held her funeral. It was raining, yet many neighbors came to pay their respects. Three police vehicles were parked nearby. One plainclothes officer came to her home and questioned her husband. Her husband questioned the officer, and told him clearly that Ms. Chen Yumei was well known as a kind person who benefited from practicing Falun Dafa. That officer soon left.
Her husband later went to the police to ask about the details of Ms. Chen's death. The officers' replies were contradictory, stating two locations of her arrest, one in the Dongsheng Neighborhood, the other in the Jiangdong Neighborhood.
Ms. Chen practiced Falun Gong and strived to live according to the principles of Truthfulness-Compassion-Forbearance, but was brutally mistreated multiple times by the Chinese Communist Party authorities. She was once detained in a brainwashing center in 2002, and went on a hunger strike to protest the torture. Her husband was also sent to a forced labor camp for practicing Falun Gong.
After the persecution began (July 20, 1999), police officers from the Chang'an Station have actively taken part by arresting practitioners and sending them to forced labor camps and prisons. Ever since Ms. Chen was beaten to death, agents have been hiding near her family-owned convenience store and monitoring visiting Falun Dafa practitioners.
Chang'an Police Station: 86-24-88293317, 86-24-24830645, 86-24-24310385
Director Wang Naiqing (male): 86-13842005586 (cell)
Deputy Director Xu Yuyuan (male), CCP Secretary Li Xiaojun (male): 86-24-81960222
Dadong District Police Department: 86-24-88503258, 86-24-24830645
Dadong District Procuratorate: 86-24-88900935
Related report: http://www.clearwisdom.net/emh/articles/2008/7/11/98871.html