(Clearwisdom.net) The Chinese Communist Party is carrying out a new round of arrests of Falun Dafa practitioners, citizens who defend their rights, as well as members of religious groups. The reason given for the arrests is "to host a successful Olympics." On May 30, 2008, practitioners Ms. Xiao Sumin and Ms. Sun Shujie were arrested by police officers. Ms. Xiao has been tortured to the brink of death. She is currently on life support in the ICU (201) in Haici Hospital in Qingdao City. The whereabouts of Ms. Sun is unknown.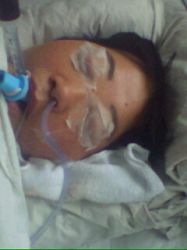 Ms. Xiao Sumin in the emergency room
On May 30, police officers from the Pingdu City 610 Office arrested Ms. Xiao Sumin and Ms. Sun Shujie. They found a key to Ms. Xiao's home when they searched her. Five or six plainclothes police officers then opened the door to her home and ransacked it when nobody was inside. The two women are currently being held in the Pingdu City Appeal Office. Their families are not allowed to visit them.
Practitioner Mr. Zhong Zhenfu was arrested by police officers on May 4, 2008. He was detained in the Pingdu City Detention Center where he was so brutally tortured that he is now in critical condition. The detention center authorities have informed his family to take him home.
Pingdu City 610 Office personnel:
Wang Xinyu: 86-532-87007791
Dai Yugang: 86-532-87309201
Police Officers with the National Security Team:
Shi Weibing, Zhao Hongwu, Zhang Hui, Liu Jie

Wang Hai, Director of Pingdu City Detention Center
Dai Jinzhong, a guard at Pingdu City Detention Center
June 17, 2008
Related article: http://www.clearwisdom.net/emh/articles/2008/6/27/98483.html