(Clearwisdom.net) "Vows of Love" is a classic pop song that often evokes sweet memories among many in Mainland China. Its catchy tune and mellow lyrics propelled it to the top of the charts--which is why the death of 42-year-old singer and percussionist Yu Zhou came as a great shock. His name is often associated with this song ever since he conquered hearts with his unique interpretation of its complex emotions. Beijing police officials, in the name of "preparing" for the Olympics, had him killed just 11 days after his arrest on January 26, 2008 on his way home from a concert.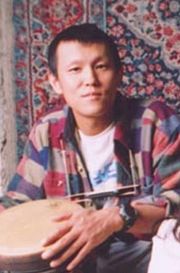 Yu Zhou was a member of the folk band "Xiao Juan and Residents From the Valley."
A Man Who Presented His Sincerity to Others
Yu Zhou graduated from the French Department at Beijing University and is fluent in several languages. His wife Xu Na graduated from the Communications University of China in Beijing. She is known as a poet and a painter within literary and art circles.
Yu Zhou learned about Falun Gong through a friend in 1995, and he and his wife soon began the practice themselves.
Yu Zhou founded the folk band "Xiao Juan and Residents From the Valley" and played harmonica and percussion and sang for ten years. Understandings gained through cultivation practice made him a more selfless person, which improved his music. He realized a good artist should not pursue fame and fortune, but instead bring goodness and harmony to the public. He studied many musical instruments through which he imitated the sounds of nature. He was quite active onstage. He could sing with piercing sincerity, and his harmonica and drums could produce sounds like a crystal-clear brook gushing through a gorge, waves crashing on a rocky shore, or a fierce summer thunderstorm.
Like a breath of fresh air, Yu Zhou's band maintained their original style and pure sound despite the popular trend for techno music and provocative lyrics. The band won the title "Folk Band With The Most Angelic Sound in China" and was No. 1 on the "2007 Chart of Folk Bands You Cannot Afford to Miss." Besides a busy tour schedule, their work also aired on Channel V in many Asian countries.
Despite his fame, in the eyes of his friends and fans, Yu Zhou was always the boy next door who remained down-to-earth, funny and kind. Friends said he liked a philosopher but often cracked them up with a subtle joke. "They are simply good people. I don't know how to describe them otherwise," said one friend of Yu Zhou and his wife.
No matter friends or strangers, Yu Zhou treated everyone he met well. Many artists from all over the country who came to Beijing to pursue their dreams often had a hard time making ends meet. Yu Zhou and his wife often let them live in their rented apartment, never charged them rent, and offered them financial help. Once, the couple gave 800 Yuan to a stranger who went to them for help, although they only earned 1,000 Yuan that month.
Yu Zhou had a strong sense of public duty. One time, while driving with a friend, he came across a large rock in the middle of the road. All the other cars drove around it, but Yu Zhou stopped the car, jumped out and moved the rock aside before resuming his trip. He was also very forgiving. A friend who had an appointment with him was more than an hour late. This man was nervous and didn't know what to expect, but Yu Zhou never even mentioned his late arrival when they met.
Yu Zhou always quietly helped others, sometimes without them knowing it. People who knew him sigh and wonder where one can find a few good people like Yu Zhou in China today.
A Man Enduring Pain Brought Others Happiness
His beloved music brought his audience joy; and he lent a hand to those in need; yet he and his wife were ruthlessly persecuted for their beliefs.
The couple was arrested and detained for 15 days in August 1999 for meeting with other Falun Gong practitioners in Fangshan, Beijing. They were tortured, but they never betrayed any others. Even the police admired their kindness, loyalty and willpower.
His wife Xu Na was arrested in July 2001 and sentenced to five years in prison for taking in a practitioner who came to Beijing to appeal. She was locked in solitary confinement and was "tied with ropes" for extended periods of time. The captors tortured her with sleep deprivation and many other methods at the Beijing Women's Prison, yet she persevered in her belief and kept telling people about the persecution of Falun Gong. Many inmates and guards were touched by her kindness and fortitude.
She was released in late 2006 and reunited with her husband. Because of her extraordinary talent, she was soon granted special admission to become a graduate student, examination waived by the Oil Painting Department, at the Central Academy of Fine Arts. The couple's life and career seemly went on the right path and was filled with hope.
A Man Murdered by the Communist Regime in the Name of "Olympics"
Yet disaster hit when least expected. As the Olympics games approach, the Communist regime has launched another round of mass arrests to "prepare" for the Olympics. As early as in 2005, Deputy Minister of Public Security Liu Jing issued orders down to all levels of the police system to "wipe out Falun Gong."
At least 1,878 arrests have taken place across virtually all of China since the beginning of this year. More than 156 practitioners were arrested in Beijing alone, including their spouses and children who do not practice Falun Gong. The police in many areas conduct door-to-door searches and even post rewards between 300 yuan and 5,000 yuan for anyone who reports a Falun Gong practitioner to the authorities. A sharp rise is seen in recent incidents of torture and deaths.
Yu Zhou and his wife were arrested on January 26, 2008 on their way home from a concert. The police took them directly to the Tongzhou District Detention Center. Their family members received a notice on February 6, 2008, to visit Yu Zhou at the Qinghe Emergency Center. When they arrived, his body was covered with a white sheet. He wore an oxygen mask, and his legs were icy cold. Yu Zhou who became healthy from practicing Falun Gong, had forever left this world.
Facing family members' inquiries, at first, the doctor muttered that Yu had died from the effects of a hunger strike. Later on he said Yu had diabetes, in order to cover their crime.
The police pressured the family to agree to immediate cremation and threatened to arrest them if they refused to comply. The family firmly refused and demanded an autopsy. At one point, detention center officials agreed to let Xu Na take care of her husband's funeral and other postmortem affairs, but they suddenly changed their mind. Instead, they sent her to Beijing Detention Center, also called the No. 7 Division of the Beijing Police Department. Yu Zhou's remains are still at the Qinghe Emergency Center.
The police blocked information and secretly sealed off the homes of Yu Zhou and Xu Na's parents. They would not let anyone approach the families.
Yu Zhou's friends first learned of his death in mid March and passed the information overseas. Recently, Yu Zhou and Xu Na's parental homes were suddenly vacated. Friends lost contact with their parents.
Yu Zhou made a hasty exit from life at age 42, after soothing and inspiring his fans with refreshing and sometimes melancholy music. He upheld "Truth, Compassion, Forbearance" with his life and did his best to awaken people's conscience with a good heart and kind deeds.
Related article: http://www.clearwisdom.net/emh/articles/2008/3/19/95478.html