(Clearwisdom.net) On October 24, 2003, Falun Dafa practitioner Mr. Zhang Xiaodong, 32, was beaten to death by guards at the Xiguoyuan Detention Center. At 5:00 p.m. that day, they informed his family. When his family members arrived at the detention center, they found that the guards had tampered with evidence at the scene in order to conceal their crime. Mr. Zhang's parents, in their 70s, grieved deeply over the loss of their son.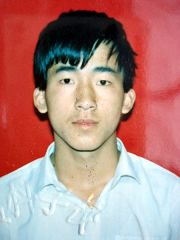 Mr. Zhang Xiaodong
Mr. Zhang was born on February 3, 1972, and was a resident of Chaimen Township, Huining County, Gansu Province. He was also an employee of the Gansu Aluminum Company. The Chinese Communist Party began its persecution of Falun Gong in July 1999, and Mr. Zhang went to Beijing to appeal in October of that year. He was illegally detained at the Chaoyangmen Police Station in Beijing for seven days. The police then took him back to Lanzhou City, where he was detained for seven additional days. Mr. Zhang maintained his belief in Falun Dafa and "Zhen-Shan-Ren" and always clarified the truth.
In October 2001, plainclothes police officers who had infiltrated Mr. Zhang's workplace kicked open his dormitory door and arrested him. They seized his Dafa books, a variety of truth clarification materials, and all his cash. On November 10, 2001, Mr. Zhang was taken to the Xiguoyuan Detention Center in Lanzhou City. He was secretly sentenced to seven years.
During the two years at the detention center before his death, Mr. Zhang was subjected to all kinds of torture and constant humiliation. The center consistently rejected his family's visitation requests.
After Mr. Zhang's tragic death, his family brought a lawsuit against the detention center through the Lanzhou District Attorney's Office. But the center responded with defiance and brazenly harassed Mr. Zhang's family.
Related article: http://www.clearwisdom.net/emh/articles/2003/11/21/42444.html