(Clearwisdom.net) On August 16, 2007, Ms. Ding Zhengfang from Dalian City, Liaoning Province was taken into custody at her mother's home by officers from the Kuiying Police Station in Zhongshan District. Ms. Ding has since been detained at the Yaojia Detention Center. About two weeks ago, the Zhongshan District Court secretly tried her in a closed court.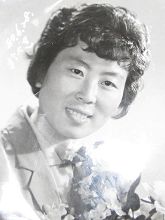 During her detention, she was put into handcuffs and shackles, which were nailed to a bed. To protest the persecution, she held a hunger strike. Consequently, she was brutally beaten and force-fed by the guards. Because of the beatings, her health severely deteriorated.
About two weeks ago, she was secretly tried by authorities from the Zhongshan District Court. Her family was not notified. The family called the staff members in charge of Ms Ding's case at the Zhongshan District Procuratorate and inquired why they were not notified about the trial. The staff members responded by saying that they were not allowed to notify them.
In the near future, the Court will hold a second trial for this case.
Criminal division of the Zhongshan District Court: 86-411-82802299, prosecutor Zhao Yanhua (female), procurator: 86-411-39866306
Related articles: http://www.clearwisdom.net/emh/articles/2007/9/10/89398.html, and http://www.clearwisdom.net/emh/articles/2006/1/18/69085.html