By Zhou Rong
(Clearwisdom.net) Gloria works in an elementary school in Manhattan. She took her daughter, who is learning how to dance, to the Chinese New Year Splendor on February 5.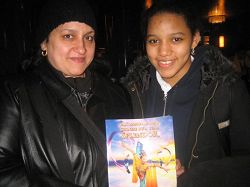 Gloria and her daughter Natila watched New Tang Dynasty's Chinese New Year Splendor. She said, "Its spectacular."
Ms. Gloria said the Chinese New Year Splendor was colorful. She experienced rich Chinese culture and said that the performance was spectacular.
She said she liked all of the performances, especially the "Lady of the Moon." Her daughter Natila liked the drums most.
She said it was a "feast for the heart" and was educational.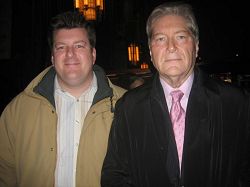 President of Capper Associates Media and Communications Mr. Alan Capper and his son watched the show. Mr. Capper said he liked "Drummers of The Tang Court," "Resounding Drums", and the songs.