(Clearwisdom.net) The Divine Performing Arts New York Company performed in the Civic Opera House in Chicago at 2:00 p.m. on December 27, 2008.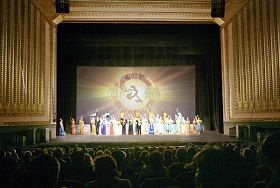 Divine Performing Arts New York Company concludes its first show in Chicago as the performers answer a curtain call
Professor: The choreography is great
David Lazar, a professor at Columbia College in Chicago and well-known writer, brought his children to see the show. He praised the show, saying that the choreography was great and the dancers' gestures were remarkably graceful. He thought that their costumes and the colors in the backdrop complemented each other very well.
He said his favorite piece was "Flowing Sleeves," because the dancers exuded such a gentle beauty. He liked the way the historical stories were presented.
Art Curator: "Magnificent presentation"
Ms. Christa Thurman is a chair curator and conservator for textiles at an art institute. She deals with textile art collections from around the world.
"I find the show very beautiful. It's a magnificent presentation ... the fabrics, the colors, the motion, the dance."
When asked if the "Chinese Spectacular" really lived up its name, she replied, "Oh yes, I definitely believe that it is a spectacular presentation ... It is a cultural performance and it is very good."
Ms. Thurman continued, "The scale and multitude of performances and dancers, especially the Tibetan number, they were different. The music and story all feed together, leaving a total impression."
Financial Analyst: People should stand up to stop the persecution
Financial analyst Laurie watched the show after being invited by her friend. She said the show was very beautiful. She liked each program and was impressed with "Persecuted on a Sacred Path."
Laurie said, "I hope people can do more to stop the brutal persecution of Falun Gong. This is a brutal thing. The thing that should be done is for people to stand up and protest the Communist Party."