(Clearwisdom.net)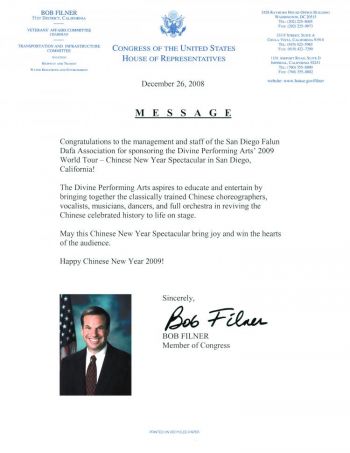 Less than a week into its 2009 World Tour, the Divine Performing Arts International Company reached San Diego, a city of 1.3 million on the United States West Coast. Before the first show, the New York-based company was flooded with close to a dozen commendations, congratulations, and letters of support from Congress, the Senate, city councilors, the legislature, and other official bodies, for promoting Chinese traditional arts and enriching the lives of San Diegans.

Bob Filner, congressman of the 51st District, California, congratulated the San Diego Falun Dafa Association for sponsoring Divine Performing Arts' visit to the city. He wrote: "Divine Performing Arts aspires to educate and entertain by bringing together the classically trained Chinese choreographers, vocalists, musicians, dancers, and full orchestra in reviving the Chinese celebrated history to life on stage. May this Chinese New Year Spectacular bring joy and win the hearts of the audience."

Mr. Filner ended his note with a sincere wish for a happy Chinese New Year for 2009.

Councilmember of the Sixth District in the city of San Diego, Donna Frye, also extended her commendation to Divine Performing Arts. She proclaimed December 26, 2008, as "Divine Performing Arts Day." Councilmember Frye also described the dance company as "remarkable," and that it is "heralded as the world's premier Chinese dance and music company." She congratulated Divine Performing Arts for helping to enrich the holiday season for thousands of San Diegans.

Anthony Young, Councilmember of the Fourth District, said "It is an honor to fully stand behind DPA's Chinese New Year Spectacular."

A statement by representatives of the City of La Mesa described the Chinese New Year Spectacular as a "world class live stage production of performing arts with harmonious integration of choreography, costumes, music and state-of-the-art digital background scenery."

State Senator Christine Kehoe, Assemblymember Mary Salas, Mayor of Santee Randy Voepel, Member of Congress Susan Davis, and others, also sent greetings, congratulations, and thanks.

Jerry Sanders, the Mayor of San Diego, thanked Divine Performing Arts for its role in the revival of authentic Chinese culture. He also pointed out in his proclamation that the performance was last year heralded by Charles Wadsworth, an acclaimed pianist and 20-year artistic director of The Chamber Music Society of Lincoln Center, as "The Best! The Best! The Best!"
Link:Â  http://en.epochtimes.com/n2/content/view/9185/