(Clearwisdom.net) This article will list some of the abusive law practices at the Shijiazhuang City Intermediate Court in Hebei Province. The Intermediate Court thwarts the regular legal process by dictating verdicts to the Lower Court and depriving defendants of the right to appeal. Employees of the court are accused of holding detainees beyond their terms, preventing defense attorneys from meeting with defendants, restricting defense attorneys from doing their jobs, arresting Falun Gong practitioners who attend court hearings of other practitioners, and denying defendants' right to medical parole. They are accused of having framed practitioners for crimes and of having been actively involved in the persecution of Falun Gong. Defense attorneys and relatives of unjustly tried Falun Gong practitioners are currently asking for an investigation and are demanding that the court must be held accountable.
According to estimates, more than one hundred Falun Dafa practitioners in Shijiazhuang City, Hebei Province, have been sentenced to time in prison because they refused to give up their faith in Falun Gong and to discuss Falun Gong with others. The longest known term among this group amounts to eleven and a half years. Some are even known to have been tortured to death or to the brink of death. The Shijiazhuang City Intermediate Court is to blame for these murders.
Some specific examples follow: Mr. Lu Xinshu, a teacher at Tatan School, was sentenced to eight years in prison and detained at the Baoding City Prison. He was allowed to go back home only when he developed ascites of the liver that were no longer treatable. He is completely emaciated and his abdomen is grotesquely swollen. He cannot fall asleep at night. Mr. Yang Xiaojie, an employee of the Shijiazhuang City Youth Newspaper, was sentenced to eleven years in prison detained at the Hebei Province Prison. He passed away twenty six days after he was released due to dying of brutal mistreatments. Ms. Bai Yuzhi, a people's representative at Jingxing County, was released from prison after her term had officially ended, and when she was almost blind and suffering from paralysis of the lower extremities. Mr. Niu Minjie, who used to be an accomplished dancer, was sentenced to 8 years in prison. During that time his blood pressure increased and he became paralyzed and wheelchair-bound. Mr. Zhao Lishan, a writer suffered from heart disease and high blood pressure.
All those Falun Gong practitioners' cases were judged by the Criminal Court # 2, the intermediate court of downtown Shijiazhuang City and surrounding counties. The verdicts were announced by the district court and included a written note, "In case of disagreement, appeal to the intermediate court within 10 days." However, any appeal always brought the same result: the original verdict was always maintained because the initial trial is always judged by the lower court which is itself controlled by the intermediate court. All decisions, postponing a trial, discussions of bail, whether or not the hearing is allowed, the identity of defense attorneys, the length of the prison term, are subject to approval by the criminal court # 2, the intermediate court. Since 1999, over a hundred of Falun Gong cases were tried by the intermediate court. The judge at the Criminal Court # 2 has especially assiduously toed the official Party line when persecuting Falun Gong practitioners and has committed crimes of against humanity.
In 2004, attorney Mr. Gao Zhisheng filed an appeal with the forced labor committee on behalf of Falun Gong practitioner Mr. Huang Wei. . The intermediate court judge refused to accept the case claiming that courts were subject only to CCP rules and could decide independently which appeals they wanted to accept.
In June 2007, Ms. Wang Bo, a graduate of the Central Music Conservatory was tried alongside her parents. Ms. Wang's mother was sentenced to four years in prison without any evidence. Ms. Wang's father was detained at a Zhao County detention facility although he had heart disease and high blood pressure. Although guards at the facility have voiced concerns about his health many times, he has not been approved for medical parole by the intermediate court. Lu Ling (female) one of the judges at the Criminal Court #. 2, prevented attorneys from defending Falun Gong practitioners several times. Another judge, Liu Bin, threatened a defense attorney. The director of the court, Wei Shuxian, ordered police officers to surround and beat Mr. Teng Biao who was with the defense team. He also colluded with police officers to arrest other Falun Gong practitioners who had obtained permits to attend a trial and he put many police officers on special duty to block nearby streets. The Wang family has since been taken to the Hebei Province Women's Prison and the Jidong Prison, Tangshan City (Hebei Province).
In addition, Ms. Wang Bo's uncle, Mr. Gai Wufan was sentenced to forced labor simply because he hired an attorney for the Wang family. On the morning of October 9, 2007, Mr. Gai's attorney went to the intermediate court on his own to claim "Administrative Adjudication". He was told that this special status did not apply to Falun Gong practitioners . When an attorney asked to see this rule, he was sternly rebuffed by the court agent.
In May, 2008, practitioner Ms. Li Xiumin, a member of the faculty at the Hebei Province University of Technology, was diagnosed with cancer in the Shijiazhuang City Detention Center, where guards submitted reports about her medical condition many times and the family also applied to have her released on medical parole many times. Judge Lu Ling cheated and used excuses to avoid responsibility. She and agents of the Judiciary Bureau threatened an attorney. The attorney was so intimidated that he/she did not dare to appear in court for the defense. At 8:30 a.m. on the day of trial, Ms Li's family and the attorney went to the Xinhua District Court to apply for the trial to be postponed and find another attorney. However, Lu Ling called ahead to say that it was not allowed to postpone the trial and quickly assigned a substitute attorney named Li Erli (female) who only had half an hour to prepare for her defense of Ms. Li. Judge Wang Yingchen, at the # 2 Court, would not allow defense attorneys from Beijing to be involved. Despite numerous letters of appeal submitted by Ms. Li's family, her trial was declared over and Ms. Li was taken to the Hebei Province Women's Prison, although she suffers from cancer and is almost blind. She is still detained there.
The Shijiazhuang City Intermediate Court also interferes with the autonomy of the lower court. For example, the intermediate court dictates rules about sentencing to the lower court and denies defendants the right to an appeal. Ms. Sun Li's case and Mr. Jiao Meishan's case are formed in this way in Shijiazhuang City.
Mr. Song Aichang, a practitioner who used to work at the Shijiazhuang City Electronic Institute # 13, tried to appeal his conviction, whereupon they found a notice of Mr. Song's conviction by the intermediate court inside the case file. Knowing that this is illegal (because it indicates that the intermediate court decided the case for the lower court), Mr. Song's family and attorney did not drop the appeal, but photo copied the evidence decision papers to file a complaint detailing all of the illegal steps taken by court officers during the course of the trial, including the fact that the defendant had already been detained for nine months beyond his term and that the confession had been extracted by torture. The attorney further asked that Mr. Song should be released and allowed to argue in front of the original court to have the guilty verdict overturned. In the meantime, Mr. Song and his relatives have filed appeals with relevant agencies and have asked that the intermediate court judges involved in the case should be charged with negligence.
Ms. Wang Sanying, an employee of the Shijiazhuang City Youfu Hospital was tried over a month ago. The intermediate court delivered the verdict. Mr. Li Heping, an attorney from Beijing, has defended her. The prosecutor was not able to produce any evidence. The judge quickly adjourned the hearing. Ms. Wang's family members and colleagues, a total of over 20 people, now understand that freedom of faith and practicing Falun Gong is a constitutional right rather than a legal transgression. They now know that the police officers are breaking the law when they arrest Falun Gong practitioners. Forty people, including relatives have signed a petition to have her released unconditionally.
The constitution of China guarantees freedom of faith. It is the right of Falun Gong practitioners to download via the Internet, print, and distribute Falun Gong-related fliers. The right and freedom of citizens to believe in Falun Gong should not be taken away. As one attorney said during a defense: "The Constitution must be considered supreme, it is not against the law to believe in Falun Gong."
Falun Gong teaches people to be good according to the principles of Truthfulness-Compassion-Forbearance. Every Falun Gong practitioner tries act according to those three principles, which are considered virtuous in all civilized countries and societies.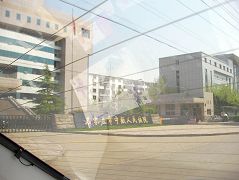 The Shijiazhuang City Intermediate Court
The Shijiazhuang City Intermediate Court:
Dong Jianyi, the deputy director in charge Falun Gong cases: 86-311-85187186 (office);
Wei Shuzhen, the director of the Criminal Court #2: 86-311-85187158 (office);
Lu Ling (Female), the deputy director of Criminal Court #2: 86-311-85187153 (office);
The main judge, Pei Weihua (female): 86-311-85187159 (office), 86-13931888584 (cell)