(Clearwisdom.net) Many people, including primary school students, recently came to view the Truthfulness-Compassion-Forbearance International Art Exhibition held in Shilin, Taipei, Taiwan.
The hosting organization extended the exhibition time from 9:00 a.m. to 9:00 p.m. every day including holidays, so that more people could view the paintings. Some primary school students came with their parents, and some came with their teachers. Others visited after school and were attracted by the crowd viewing the paintings.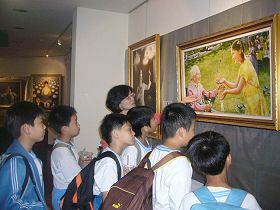 Children view the paintings attentively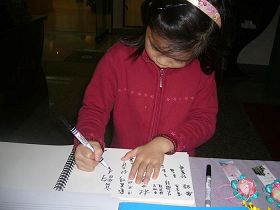 Children complete survey forms
Students with family names Lin and Liu from Jiantan Primary School completed survey forms after viewing the paintings. They said, "These paintings tell us to be honest and behave well. Seeing the paintings that described the persecution brought tears to my eyes."
Students from Shilin Primary School visited the exhibit after school and were attracted by the crowd in the exhibition hall. They decided to come in to see what the crowd was interested in.
When the guide explained the painting "Master Buddha" by Zhang Kunlun, the noisy crowd of students became quiet and looked up at the great Buddha's image attentively. They also liked many other paintings, including "Pure call," "Bail for medical treatment," "Tear of orphan," "Sound of drum," "Endurance," "Pledge," and "Embroidering Falun."
Though they are young, the students nodded positively when the guide asked if they understood. Upon seeing the paintings exposing the persecution, they said that the Chinese Communist Party (CCP) should not persecute such good people. Student Kao said, "Teacher told us to be kind towards others. The CCP does not behave kindly to people."