Japan: Falun Gong Practitioners Call for Prime Minister to Help Stop Persecution in China (Photos)
October 24, 2008
|
By a Falun Gong practitioner in Japan
(Clearwisdom.net) The Falun Dafa Association in Japan held a press conference in front of the Diet in Tokyo at 2:00 p.m. on October 21, 2008, to call for the new prime minister, Taro Aso, to address the persecution of Falun Gong in China during the past nine years. They requested that he take advantage of the upcoming ASEM Summit in Beijing on October 24 to urge the Chinese Communist Party (CCP) to stop persecuting Falun Gong and release imprisoned Falun Gong practitioners.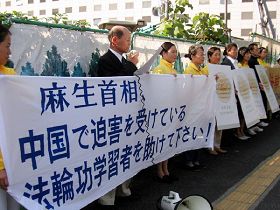 Mr. Tsuruzono Masaaki, representative of Falun Dafa Association, calls for the prime minister to help stop the persecution of Falun Gong by the CCP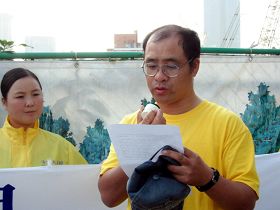 Falun Gong practitioner Kurebayashi Mitsuhiro is saddened by the persecution that his brother in China has experienced
Ms. Zhou Jinhua describes the persecution of her sister Zhou Meihua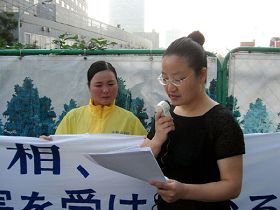 Japanese citizen Ms. Wu Lili tells how her sister Wu Xiaohua was threatened with imprisonment by the CCP


Congressmen and passersby get fliers from Falun Gong practitioners
After the press conference, Mr. Tsuruzono Masaaki submitted an appeal letter and an open letter to Prime Minister Aso. Falun Gong practitioners held banners worded "Prime Minster Aso, please help Falun Gong Practitioners Being Persecuted in China" and poster boards explaining Falun Gong in front of the Diet. Members of National Diet and people passing by accepted information flyers from Falun Gong practitioners. Several media including NHK were present to cover the event.
Mr. Masaaki, a legal representative of NPO, pointed out, "Various severe infringements of human rights are occurring in China. Among these incidents of human rights trampling, the persecution of Falun Gong is the worst and most brutal. We wish that Prime Minister Aso can bring our voice requesting that the persecution be stopped, during his trip to China."
Four Falun Gong practitioners narrated their personal or a relative's experience from the persecution and called on Prime Minister Aso to help rescue their relatives in China.
Falun Dafa practitioner Kurebayashi Mitsuhiro said, "My brother is 33 years old. He studied in Japan in April 1999 and returned to China in February 2000 to speak for Falun Gong. He was arrested and sentenced to ten years of imprisonment for distributing flyers in August 2002. He is imprisoned in Mudanjiang Prison, Heilongjiang Province. He is forced to do labor more than ten hours every day. Family members' visits are restricted. He was not allowed to be visited for the entire past year. Only ten minutes are allowed for each visit this year. I worry about his life. My mother is 66 years old and a retired primary school teacher. She was imprisoned several times in Jidong Detention Center for practicing Falun Gong. My sisters, sister-in-law and younger brother were also detained for appealing for Falun Gong. Now they are still monitored and intimidated by police."
Ms. Zhou Jinhua stated that her sister Zhou Meihua was persecuted many times for practicing Falun Gong. She is still imprisoned in Masanjia Forced Labor Camp, in Liaoning Province.
Ms. Wu Lili said that her sister Wu Xiaohua was arrested twenty times, and imprisoned in jail, forced labor camps and mental hospitals since 1999. Recently she was taken to Hefei Mental Hospital and has been imprisoned there for more than nine months. She was tied to a bed all day and not allowed to use the bathroom. She was also forcibly injected with nerve-damaging drugs and subjected to electric shock.
Ms. Yu Jia, who used to be a teacher in Qinghua University, was imprisoned for three and a half years. She narrated her experience of the persecution. She was brutally beaten. Her daughter was three and a half years old, but was not able to see her. Her brother and his wife were arrested in 2002 and were sentenced for nine and twelve years of imprisonment, respectively. Their son was five years old at the time.
The appeal activity in front of Diet is held from October 20-23.