(Clearwisdom.net) Ms. Hou Youfang was a physics teacher at Xipo Middle School in Jinchang City, Gansu Province. The Gansu Province No. 1 Labor Camp, 7th Division, is where she was persecuted to death on November 29, 2002; she was only 48 years old. Below is additional information regarding her case.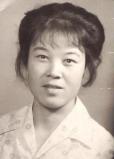 Ms. Hou Youfang
Ms. Hou was born on March 20, 1954. She was recognized as an outstanding and excellent teacher for several years. When she went to Beijing to appeal for justice for Falun Dafa in February 2000, she was illegally arrested and escorted back to Jinchang City by a policeman from the Chengjian Police Station and the principal of her school, Huang Jisheng. She was held in the local substance abuse center for two weeks. When she was released, her husband, Niu Xianglin, divorced her.
School principal Huang Jisheng would not allow Ms. Hou to resume her teaching duties. He arranged instead for her to work in the cafeteria. She had to carry buckets of water for the use of 80 to 90 people, do custodial work, and gather coal. She was not allowed to wear gloves even though her hands had many open wounds that bled. Another perpetrator in the persecution was Zhang Xueyou. School authorities gave Ms. Hou 200 yuan for subsistence living expenses. She was forced to pay 6,000 yuan for being escorted back from Beijing, and she had to pay the teacher who taught her class. In total, she was charged 16, 000 yuan. The school authorities attempted to force her write a Guarantee Statement. They threatened to take her house away if she refused. They tried to deceive her by saying that, if she wrote her statement not to practice Falun Gong, they would give her back her salary and her house and let her return to teaching.
In June 2001, Hou Youfang was arrested and held in the local detention center. The director of the detention center, Hu Dengping, force-fed her and beat her so badly that she was covered with bruises. One of the perpetrators was one of her students who could not face her and hid behind a door.
Ms. Hou was arrested again the same year when she handed out truth-clarification materials at Jinsanjiao Market and was reported. After she was released, she had no place to go--she was divorced, and her children refused to take her in. She had no choice but to stay at a fellow practitioner's home. The school authorities and the police from Chengjian Police Station followed and monitored her closely.
When she once clarified the truth in public, they attempted to arrest her and shove her into a car. Because there was a large crowd witnessing the event, they had to give up arresting her in public and just followed her. When Ms. Hou went to another practitioner's place, officers from the Chengjian and Guangzhouroad Police Stations and staff from the Education Committee surrounded the house, broke in, and arrested her. She was tortured mercilessly in Chengjian Police Station, where they hung her up by her handcuffs, tied her down on a tiger bench, and subjected her to other tortures. However, Ms. Hou was able to escape with her righteous thoughts.
Homeless, she went to Minqin County and continued clarifying the truth. She was arrested by the local police, tortured, and sent back to Jinchang City.
In August 2001, Hou Youfang was sentenced to two years of forced labor. Before she left for the camp, one unnamed official announced: "No matter what you do, make sure you keep her in the labor camp." Police officer Cai Jianjun took her to the labor camp. Because of her long-term persecution, Ms. Hou was extremely weak, with migraine headaches, vertigo, and severe scabies. She was taken to the Gansu Province No. 2 Labor Camp but refused admittance due to her poor health condition. They took her to another labor camp and she was refused for the same reason. We do not know what officer Cai Jianjun said to the Gansu Province No. 1 Labor Camp officials, but they finally agreed to accept Hou Youfang. Cai Jianjun said, "According to our leader, we'd rather that she die in the labor camp than for her to leave."
Wu Ruimei, a guard at the labor camp, instigated other inmates into beating and verbally abusing Hou Youfang. Wu also stole money that fellow practitioners had given to Ms. Hou. The labor camp guards used all types of torture on her.
Ms. Hou Youfang died on November 29, 2002, as a result of torture and relentless persecution. Fellow practitioners were witnesses that Ms. Hou Youfang had been beaten so severely that her arms and ribs and pelvis were fractured. The perpetrators included Zai Wenqin, the leader of the labor camp division, the labor camp hospital, and the camp Education Department.