(Clearwisdom.net) On June 29 and 30, 2007, Falun Gong practitioners held rallies in front of the Hong Kong Economic and Trade Office and Chinese Embassy to protest the Hong Kong Government's unlawful denial of entry and deportation of Falun Gong practitioners from Taiwan with proper visas, based on the CCP's blacklist. They also expressed support for Hong Kong practitioners' lawsuit against Jiang Zemin, Li Lanqing and Luo Gan, the chief culprits of the persecution of Falun Gong in China.

Washington DC Falun Gong practitioners hold rally to protest Hong Kong government's deportation of Falun Gong practitioners and to support Hong Kong lawsuit against Jiang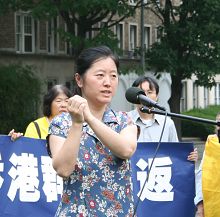 Falun Gong practitioner Wei Shi, who was illegally deported in 2001 on entering Hong Kong talks about her personal experience
Dr. Terri Marsh, executive director of the Washington-based Human Rights Law Foundation and lawyer in a lawsuit against Jiang, said that the CCP tries to stop lawsuits filed around the world, but fails. The more the Chinese Communist Party (CCP) tries to interfere, the more lawsuits we will win. When the criminals persecuting Falun Gong leave China, they will inevitably be sued. Once the CCP collapses, they will be brought to justice for their crimes.
Dr. Marsh said that in addition to Hong Kong, lawyers in seventeen countries, including Spain, UK, Belgium, France, Taiwan, Japan, Korea, and Australia have filed lawsuits against Jiang Zemin, Li Lanqing and Luo Gan, the chief culprits of the persecution of Falun Gong.
Jielian Zhang, a Washington-based expert on Chinese affairs, said, "There are often parades on the streets in Hong Kong to support withdrawing from the CCP. There are also banners that read, 'China is not equal to the CCP' and 'Disintegrate the CCP' in Hong Kong. One can imagine that the CCP is afraid and the Chinese people are shocked upon seeing public displays of Nine Commentaries on the Communist Party, quitting the CCP, disintegrating the CCP, and the public trial of Jiang."
Ms. Wei Shi, a Falun Gong practitioner in Washington DC who was deported in 2001 upon entering Hong Kong, talked about her personal experience.
Erping Zhang, spokesperson of the Falun Dafa Information Center, said in a statement, "It's a shame Hong Kong leaders continue to kowtow to help the Chinese communist regime hide its crimes and silence innocent victims."
The US State Department said: "We believe all individuals, regardless of their beliefs or affiliation, enjoy the right to legitimate travel and peaceful assembly. We expect that Hong Kong would continue to uphold its high standards of personal and political freedom."
Chinese video web YouMaker, New Tang Dynasty TV, and the Epoch Times provided live coverage of the rallies. Mr. Wu, manager of the web technology YouMaker, disclosed that many people around the world watched the live web coverage, including many people in China using DynaWeb to break through the internet blockade.