Falun Dafa Practitioners Participate in Eno River Festival for the Eighth Time (Photos)
July 17, 2007
|
By a Falun Dafa practitioner from North Carolina
(Clearwisdom.net) The three-day-long Eno River Festival wrapped up on July 8, 2007 at Park West Point on the Eno River. For the eighth time, practitioners from the Triangle of North Carolina participated in the event to introduce Falun Dafa to the visitors.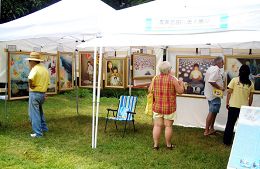 "Truthfulness-Compassion-Forbearance" International Art Exhibition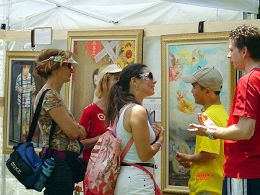 Falun Gong practitioners guiding visitors through the "Truthfulness-Compassion-Forbearance" International Art Show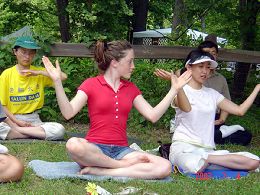 Learning Falun Gong exercises
The purpose of the festival is to encourage residents' involvement in protecting the wilderness and waters of the Eno River and its surrounding area. From its conception in 1980, this event has become a large annual event that receives support from the nearby 20,000 to 30,000 residents.
In order to further clarify the truth about the persecution of Falun Gong to local residents, practitioners set up a "Truth-Compassion-Forbearance International Art Exhibit." In addition, they offered lessons in making paper lotus flowers and drawing Chinese characters and taught the exercises of Falun Dafa to festival goers. The activities attracted visitors of different ages and from different walks of life.
Many visitors had already heard about the persecution of Falun Gong and many expressed their support to Falun Gong practitioners in their endeavor to end the persecution. When they heard about the Chinese Communist Party's crime of live organ harvesting from Falun Gong practitioners, they said it was very evil.
At the art exhibition, some parents used the stories of the paintings to explain to their children about the nature of good and evil.
A Falun Dafa practitioner said they met more people wanting to learn the exercises this year. Many asked where they could learn the exercises and wanted specific details about how to practice. A teen-aged girl approached practitioners who were doing the meditation and asked if she could join them. Of course she was welcomed and taught how to practice. After ten minutes, the girl opened her eyes and said, "It will be wonderful if I can do this every day."