(Clearwisdom.net) On the afternoon of July 6, 2007, Chiang Hui-huang and eight other Falun Gong practitioners went to the Taidong County Government and the service offices of legislative committee members Lin Cheng-erh and Chen Ying to submit a petition letter in protest of the Hong Kong government's violation of human rights in deporting Taidong residents with valid visas. They asked that the county government and legislative committee members speak out for them and request the central government to address this matter and condemn the Hong Kong government's kowtowing to the Chinese Communist Party (CCP) and its suppression of human rights. The county head's secretary and the directors of the legislative members' service offices accepted the petition letters. They indicated that the media had reported this incident and that they would pay attention to and handle it. Hou Shih-min, the county head's secretary, emphasized that evil forces cannot prevail.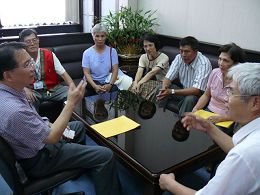 Taidong practitioners submit a petition letter to the County Government to protest the Hong Kong government's violent deportations. Hou Shih-min (left), the county head's secretary, accepted the letter.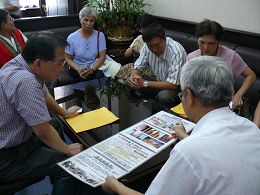 Falun Gong practitioners expose the CCP's persecution of Falun Gong to the secretary

Chen Lan-muluo, director of legislative member Lin Cheng-erh's service office, accepts practitioners' petition and indicates that he knew about the Hong Kong deportation incident from media reports

Chen Cheng-hsu, director of legislative member Chen Ying's service office, listened to practitioners tell about being deported from Hong Kong
Because the county head was out of town, Secretary Hou Shih-min accepted the letter. Chiang Hui-huang said that a total of eleven people from Taidong went to Hong Kong with valid visas. Six of them were deported by force. Hong Kong immigration officials refused to give a reason for their deportations. Later it was discovered that the main reason for the deportation was their practice of Falun Gong. Several hundred Falun Gong practitioners were deported.
Secretary Hou Shih-min said that he had seen the reports on this incident and knew Falun Gong to be a good practice that teaches people to become kind. He said that for a belief to have so many people practicing it worldwide, it must have righteous value.
Practitioner Mr. Lin shared how he had benefited from the practice. He emphasized that the CCP has persecuted Falun Gong for eight years and practitioners have continued to appeal for an end of the persecution with peaceful means. The CCP uses extreme means in its efforts. Its harvesting of organs from living Falun Gong practitioners has gained national attention. Mr. Hou said that many of his friends and teachers practice Falun Gong and he knew relevant information about Falun Gong. He promised to report to the county head and he emphasized that since ancient times, evil forces have never prevailed.
Chiang Hui-huang and others went to the service offices of the two legislative members. The two members were absent. The directors of the service offices accepted the letter and said they knew about the incident. They listened to practitioners tell about the deportation and about the CCP's persecution of Falun Gong. They said they would report to the legislative members and would make an appointment for a future meeting.
Chiang Hui-huang said that he sought help from legislative committee members after he was violently deported last week. He met legislative committee member Huang Chien-ting and the father of member Chang Jen-hsiang. After hearing about the incident, they could not understand why such a thing occurred. Mr. Chiang hoped that this incident would encourage everyone to recognize the evil nature of the CCP and help stop the persecution of Falun Gong in China.