Police in Shuangcheng City, Heilongjiang Province, Tortured Practitioner Zhou Zhichang to Death (Photo)
(Clearwisdom.net) Since the persecution of Falun Gong began on July 20, 1999, policemen Zhang Guofu and Jin Wanzhi from the Traffic Patrol Division of Shuangcheng City, instigated by the City Party Committee Secretary Zhu Qingwen, and the Politics and Law Committee Secretary Wang Shuqing, have wildly persecuted Falun Gong practitioners. They illegally arrested Zhou Zhichang, who was the head of the Armed Forces Department of Handian Township, and detained him in Shuangcheng City Second Detention Center.
In July 1999, Dafa practitioners from Shuancheng City went to Beijing to appeal for Dafa. They were arrested and escorted back, and detained in the Second Detention Center. Policeman Zhang Guofu tried to instigate practitioners' family members to force the practitioners to sign statements to stop practicing Falun Gong. At the same time, he extorted money from them and confiscated their personal belongings.
Zhang Guofu tried to force Zhou Zhichang to sign the statement to stop practicing Falun Gong, but Zhou Zhichang refused. Hoping to get Zhou Zhichang back to work for them as soon as possible, township government officials treated Zhang Guofu with dinner, and told him that Zhou Zhichang was a nice person. The Armed Forces Department of Handian Township had many tasks waiting for Zhou Zhichang to handle. However, in the persecution of Falun Gong, Zhang Guofu had lost all of his human nature. He refused to let Zhou go.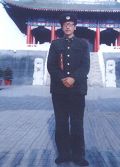 Dafa practitioner Zhou Zhichang from Heilongjiang Province (tortured to death)
Zhang Guofu's wife ran a small store inside the detention center. He reminded practitioners' family members to shop at his wife's store for daily necessities. A roll of toilet paper was normally sold for one to two Yuan outside, but it was sold for 20 Yuan in her store.
After Zhou Zhichang was detained for over a month, his family members begged the detention center for his release, and paid the bail. Only then he was released. On September 9, 1999, Zhou Zhichang went to Beijing to appeal again. He went to different levels of Appeals Office to appeal for Dafa. He was arrested and escorted back to Shuangcheng City and detained in the First Detention Center. Shuangcheng City authorities normally put those practitioners who have been arrested twice under criminal charges. The second time Zhou was arrested, he had been put under long-term detention. He was detained in the First Detention Center with the regular criminals, and had to bear the criminals' scolding and beatings. He was put in shackles that were for the criminals on death row. In winter, he could not wear normal warm pants because of the shackles. His family members had to make special pants with zippers on the side to keep him warm.
For eight months, Zhang Guofu would not permit Zhou Zhichang's family to visit him. On the morning of May 6, some policemen from Shuangcheng City took Zhou Zhichang to Shuangcheng City Hospital for a physical check up. Someone saw Zhou walking inside the check room normally. However, a few hours later, he suddenly died. The doctor who did the check up said that he was already dead when he entered the hospital. Zhang Guofu then told Zhou's family that Zhou died from a heart attack. The autopsy was conducted in the afternoon of May 15. Zhou's family members saw that there were wounds on his head, his scalp, his hands and feet had extravagated blood, and they were black. There were scars on his ankles as well. The shackles on his feet had worn the skin off after a long time, and the bones were clearly visible. All this indicates that Zhou Zhichang was tortured to death.
At the time of the autopsy, many practitioners went there. Zhang Guofu gathered a large group of policemen, six police vehicles and they also brought a video camera. They were ready to arrest the practitioners at any moment. Two practitioners drove a car there. Just because they parked in the spot for a little longer, they were arrested and their car was confiscated.
After Zhou was tortured to death, the police department authorities told his family that his body would be cremated on the 19th in the First Funeral Home in Shuangcheng City. There are two funeral homes in Shuangcheng City. The First Funeral Home is located inside the area of Shuangcheng Town, and the Second Funeral Home is located in Handian Town. When his family members and relatives were on their way to the First Funeral Home at around 6:00 am on the 19th, their car was forcefully stopped when passing by the Second Funeral Home. They were told that Zhou's body would be cremated in the Second Funeral Home, and the body would be taken there shortly and cremated right away. His family members had no choice but to comply. They asked to take his ashes home and according to tradition, leave it there for three days for family and friends to offer their condolences. However, totally ignoring his family's misery and sadness, Zhang Guofu and the other vicious thugs cremated Zhou's body at around 7:00 am, and then they sent the ashes to the Funeral Home. In addition, they threatened the family and prohibited them from contacting any Dafa practitioners.
Many practitioners from around the area learned about Zhou Zhichang's funeral, and they went to the funeral home on the 19th. However, they were blocked by the armed police from miles away. The policemen also blocked all the roads to the funeral home and would not let any pedestrians or vehicles pass. Over a hundred policemen patrolled the area inside the yard of the funeral home, and over 20 police vehicles also parked inside. It was said that there was a policeman stationed about every ten meters, over 50 of them in all. During that time, if someone else needed to cremate some bodies, they had to present some kind of introduction letter from their work places. What's more, if someone wanted to enter the funeral home, they all had to curse Falun Gong, otherwise they would not be allowed to enter. The mother of the former head of Shuangcheng City Education Bureau needed to be cremated on the same day, so an old woman got a chance to go with their vehicles to enter the funeral home to look for her daughter (a practitioner). But the policemen forced her to loudly curse Falun Gong. They used this method to find out whether she was a practitioner.
The above is an account of how Zhang Guofu and Jin Wanzhi, policemen from Shuangcheng City, along with some other vicious thugs, Zhu Qingwen, Wang Shuqing, Cheng Peixin and Wang Wenshan (already died in a car accident) tortured Zhou Zhichang to death.