(Clearwisdom.net) The couple Mr. Yu Jinfang and Ms. Xia Fuying are Falun Gong practitioners from Lanzhou City. Since the persecution of Falun Gong began on July 20, 1999, they have been harassed, illegally detained and arrested. On November 10, 2006, Xia Fuying was released and returned home from the Women's Prison in Gansu Province. On November 13, 2006, Yu Jinfang was brought home from Lanzhou Prison by his family members. He was very weak as a result of the brutal persecution. On the twelveth day after returning home, Yu Jinfang passed away, leaving Xia Fuying alone to live a hard life.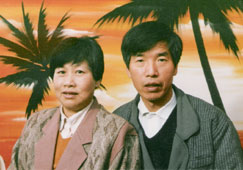 The Couple Yu Jinfang and Xia Fuying
Mr. Yu Jinfang was sixty-three years old and worked at the Second Construction Machinery Plant of Gansu Province. His wife Xia Fuying is sixty-four years old and worked at the same factory. They lived at No. 270 Paihong South Road, Chengguan District, Lanzhou City.
Due to the hard work at the factory, Yu suffered from severe back pain. Xia was hit by a factory truck in 1975 which injured her back. She suffered from a vertebral compression fracture. For twenty years, she wore a steel vest around her back. She couldn't bend her back and suffered great pain. In order to cure her diseases, the couple traveled all over the country looking for an effective cure. They spent a lot of money in learning several forms of qigong, but they were little help. The pain wasn't relieved even a bit.
In September 1995, the couple came across Falun Gong by accident. They saw Falun Gong practitioners demonstrating the exercises and the harmonious and compassionate field drew them instantly. They started learning Falun Gong.
After the first three days of practicing, Ms. Xia had diarrhea for three days. She thought to herself, "This gong is different from other forms of qigong. As soon as I started to practice, Master purified my body instantly. Master started to take care of me. I am determined to learn this gong now. No matter what happens, I will steadfastly practice this qigong." After two days of diarrhea, she felt very comfortable and her body was light. She then took off the steel vest she had been wearing for twenty years and threw her medical records into the garbage. In less than one month, her back pain disappeared. Mr. Yu was very moved. He said to his wife, "For so many years we have spent endless time and energy in practicing qigong and spent huge sums of money but our health didn't improve. We didn't spend a penny in learning Falun Gong, such a good qigong, and now we have experienced the wonderfulness of having no diseases in our bodies."
In late September 1995, the couple obtained the book "Zhuan Falun." As soon as he started reading the book, Mr. Yu knew that this was the book he had been searching for all his life. Ms. Xia was worried when she didn't have the book, but she became more worried when she got the book because she has not gone to school and was illiterate. Every day she brought the book with her to attend Fa study. She could only listen to others read while she herself could not read. One day after the group Fa study, she returned home and had a good cry. She said to Master in her heart, "Master, I can't read. When am I able to read your book?" Then she fell asleep. The characters of the book Zhuan Falun were shown before her like a movie. Every character emitted a blue light and went straight into her head. When she woke up and opened the book, she found that she was very familiar with the words and she could read most of them. There were only a few words that she couldn't read. With the help of others, she quickly learned to read the whole book. Later, she could read Master's recent articles and the other Falun Dafa materials as well.
Through Fa study and exercises, the couple experienced the power of Falun Dafa. They talked to everyone they met about the miraculousness and wonderfulness of Dafa. They hoped that others could learn and benefit from it. On every holiday, they went to hongfa (spread Dafa) to let more predestined people learn about Falun Dafa, but it didn't last long. The evil persecution of Falun Gong started in July 20, 1999.
On July 20, 1999, police from the Public Security Bureau in Lanzhou City arrested four Falun Dafa practitioners. Yu Jinfang and other Falun Gong practitioners went to the Provincial Government Office and demanded the unconditional release of the practitioners. For this they were "illegally detained" for six months. His work unit stopped his monthly 400 yuan pension. He wasn't released until January 20, 2000.
In July 2000, Ms. Xia went to Beijing to appeal for Falun Gong. At Tiananmen Square, she did the meditation exercise and said loudly, "Falun Dafa is good." She was detained for one day at the Qianmen Police Station.
In October 2000, the couple went to Beijing to appeal for Falun Gong together. Ms. Xia was intercepted at the Dingxi Station and sent back to Lanzhou. She was detained at the Yaoshuping Custodial Station in Lanzhou City for ten days. Mr. Yu broke through many obstacles and successfully arrived at Beijing. Later he was arrested at the place where he stayed at Dongguancun, Beijing. The police beat him severely, and used electric batons to shock him on the face, which caused severe blisters in his mouth. He was detained there for twenty days and was then taken back to Lanzhou. He was detained at the Yaoshuping Custodial Station for another fifteen days.
On September 30, 2001, Falun Dafa practitioner Mr. Yuan Jiang was illegally arrested in Dunhuang, Gansu Province. The police detained him at Hou Mountain of Baita Mountain and tortured him for a month. On October 26, Mr. Yuan managed to free himself from the guard who was monitoring him and reached his daughter Yu Xia's home after much trouble. On November 9, his internal injuries became worse and he passed away.
Upon learning the news of Mr. Yuan Jiang's death, the Public Security Bureau in Lanzhou City sent over thirty police cars and besieged Ms. Yu Xia's home. On November 11, 2001, policeman Lu Zhibin from the First Section of the Chengguan District Public Security Bureau in Lanzhou City led over ten policemen to barge into her home and illegally arrest her. Her husband and the maid who were not practitioners were sealed in their house. On the same day, Lu Zhibin led over ten policemen to break into Yu Jinfang's home and arrested the couple. Yu Jinfang was sent to the custodial station in Yuzhong County, Gansu Province on the same day. Xia Fuyin was released two days later. Their daughter and son-in-law were detained for three days and were not released until the police extorted 1000 yuan from them. Their house remained sealed and the whole family became destitute. The house was not returned to their daughter until Yu Jinfang and Xia Fuying were illegally sentenced.
At the custodial station, the police tortured Yu Jinfang for over ten days. He was traumatized and his physical body was severely injured from the torture. The police notified the family that Mr. Yu suffered from a gastric hemorrhage and was in the hospital in the forced labor camp in Dashaping, Lanzhou City. Mr. Yu didn't cooperate with the perpetrators at the hospital and went on a hunger strike for several days. The police tied him to a death bed and interrogated and tortured him for four consecutive days and nights.
In April 2002, Yu was discharged from the hospital. An official from the First Section of the Public Security Bureau forced his family to pay 4000 yuan. His daughters couldn't afford to pay the entire amount so she paid 2000 yuan. Yu's work unit paid the remaining 2000 yuan. Later, the work unit deducted this amount from Xia Fuying's salary. Yu was then detained at the Dashaping Custodial Station for two months, until June 2003.
At the custodial station, Mr. Yu was forced to live in inhumane conditions. He slept on the floor of a dark and damp room. There were scabies all over his body which often bled. Within two months at the custodial station, he had a chronic high fever. He was not able to get up and couldn't eat or drink. He was on the brink of death. The clinic at the custodial station was afraid and didn't want to be held responsible should he die, so they notified his daughter.
In March 2003, Mr. Yu was allowed to stay in the hospital after his daughter gave two thousand yuan to the hospital at the Dashaping Forced Labor Camp. He went to the hospital with the help of several others, but in less than one month he was taken from the hospital back to the custodial station. His family requested many times for him to be taken to the hospital. He was not taken until the family was extorted of four thousand yuan. Mr. Yu was in the hospital for three months but his condition didn't improve.
On November 11, 2003, Xia Fuying was at her daughter's home when He Bo from the Sixteenth Section of Lanzhou Public Security Bureau led five policemen to break into their home. They didn't show any identification and lied to them about Xia going to the Security Bureau for verification. At the time, Xia insisted on not going with them. He said if there was anything to verify, they could do it on the spot. He Bo said, "You come with us now and you will be able to come back at four o'clock in the afternoon. You need not worry." They lied and deceived Xia. They pushed her into the police car and took her directly to the No. 2 Custodial Station in Lanzhou City where she was illegally detained.
Several days after Xia's detention, the Dongcheng District Court sentenced Mr. Yu Jinfang, Ms. Xia Fuying, Ms. Wang Zhijun and Mr. Wen Shixue for "providing shelter to people." Xia was sentenced to three years. He was sent to the Fifth Section of the Jiuzhou Women's Prison in Gansu Province. Wang Zhijun was sentenced to five years and sent to Jiuzhou Women's Prison. Yu was sentenced to five years and sent to Lanzhou Prison, and Wen was sentenced to eight years and six months and sent to the Seventh Section of the Lanzhou Prison.
Yu Jinfang spent five long years at the prison. He suffered both mentally and physically. He was detained at the Laocan Section in Lanzhou Prison before he was released. On November 13, 2006, his family took him home. They found that he had much difficulty speaking and had to use much effort to speak even one sentence. He was extremely thin, couldn't eat and often vomited. He said, "I have been like this for two months. If I don't eat, I vomit less. If I eat, I vomit more." Later, Yu ate less and less but vomited more and more, until he passed away at six o'clock in the afternoon on November 25, 2006.
Yu's death is concrete evidence of the CCP and Jiang's regime persecuting Falun Gong practitioners and their policy of "physically eliminating Falun Gong practitioners."