(Clearwisdom.net) Mr. Wang Xinzhong, a Falun Gong practitioner from Shijiazhuang City has been arrested numerous times since 1999 for persisting in his belief--Falun Dafa. He sustained lower back injuries from the beatings and brutal tortures while in custody. He is currently held at a detention center. His wife, and daughter Wang Bo were sentenced to four years and five years in prison, respectively. A happy family was torn apart because of the persecution.
Recently, Wang Xinzhong experienced increased health problems, including a relapse of heart disease and high blood pressure readings of 200 mmHg over 120 mmHg. His relatives have written letters to the relevant government officials, asking them to approve his immediate release on medical parole.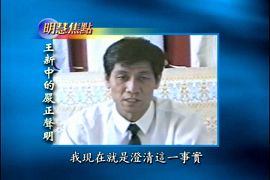 Wang Xinzhong exposes the Communist Party's lies on the "Minghui Focus" program before his arrest in 2006
Wang Xinzhong and his family have not violated any laws. Six Beijing-based lawyers, Li Heping, Deng Biao, Zhang Lihui, Li Shunzhang, Li Xiongbing and Wu Hongwei have submitted detailed statements to the court, defending the innocence of the Wang family. Wang Xinzhong's health will only worsen in captivity due to the terrible living conditions at the detention center.
Wang Xinzhong's lawyers Zhang Lihui and Li Shunzhang emphasized in the end of their statement (attached), "Based on the above reasons, the defense believes Wang Xinzhong's acts did not constitute any crime. The preliminary trial verdict contained serious misinformation and inappropriate application of the law. The procedure was also illegitimate. All of these should have been corrected during the second trial. Wang Xinzhong, his wife and daughter had been held in labor camps for three years, and have now been sentenced to four years and five years in prison. They are not only deprived of personal freedom but their family life is practically non-existent."
Wang Xinzhong was an official at Shijiazhuang City Railroad Bureau. His wife Liu Shuqin worked at Shijiazhuang Bank of Industry and Commerce. Their daughter Wang Bo is very bright and has studied piano diligently since a young age. She was admitted to the Central Conservatory of Music. Wang Xinzhong suffered from poor health and often had unexplained bouts of high fever for which he was hospitalized. He recovered completely, however, after he started practicing Falun Gong. He and his wife also mended their relationship, despite the fact that they had been fighting and were about to divorce. Their relatives were very happy for them. However, since the persecution of Falun Gong began in 1999, Wang Xinzhong and his family never lived a day in peace because the Party persecuted them for persisting in their belief. The immediate family members were sentenced to three years in a labor camp. The family reunited in late 2005 for a short while but was separated again on July 28, 2006.
According to the judge, the process for medical parole is to first obtain approval from the case handler(s). The detention center will present the medical diagnosis and related information to the court for the judge's approval. The Politics and Security Division at Shijiazhuang City Police Department is the case handler. Wang Xinzhong is currently held at the Zhao County Detention Center in Shijiazhuang City. The judge for the second trial is from the Collegial Panel of the Shijiazhuang Intermediate Court.
As mentioned earlier, Wang Xinzhong's blood pressure rose from 180 mmHg to 200 mmHg. His family and friends are appealing to the related government departments to approve medical parole in light of his condition.
Work units and persons related to the persecution and trial of the Wang family
No. 2 Detention Center of Shijiazhuang City: 86-311-87782024
Wang Shuting, head of detention center: 86-311-87755213, 86-13931171888 (Cell), 86-13781581859 (Cell)
Zhang Hongqi, political head: 86-311-87755202 (Office)
Wang Zhibin, deputy head of detention center: 86-311-87755202 (Office)

Zhao County Detention Center in Shijiazhuang City, where Wang Xinzhong is currently held: 86-311-84947842
Geng Junjing, head of the detention center

Shijiazhuang City Intermediate Court: 86-311-85187214
Main switchboard at the intermediate court: 86-311-85187000; one can ask for any judge's phone number

Members of the Collegial Panel at the Court of Second Instance, Shijiazhuang City Intermediate Court where the Wang family's case is to be heard:
Lu Ling (female), head judge of the Collegial Panel and deputy head of No. 2 Criminal Court: 86-311-85187153
Pei Weihu (female) presiding judge at the Collegial Panel: 86-311-85187159, 86-13931888584 (Cell)
Liu Bin (male) judge at No. 2 Criminal Court and Collegial Panel: 86-311-85187337
Wang Feng, head of the No. 2 Criminal Court: 86-311-85187326, 86-13315119295 (Cell)

Hebei Province 610 Office
Zhang Guojun, head of 610 Office: 86-311-87906310 (Office), 86-311-87906898 (Home)
Wang Yongzhi, deputy head, main conspirator behind the persecution of the Wang family, who planned the defamation of Falun Gong through a Focal Point Interview program on CCTV: 86-311-87908681 (Office), 86-311-87906766 (Home), 86-13931110731 (Cell)
Ji Tingyu, deputy head: 86-311-87908895 (Office), 86-311-87906889 (Home)

Changan Police Department in Shijiazhuang City
Head office: 86-311-86046234, 86-311-86049296
Liu Zijun, deputy head in charge of persecuting Falun Gong: 86-311-86676214 (Office)
Wang Lianxi, head of the Politics and Security Division and former head of Hedong Police Station, who participated in the arrest of the Wang family.