People of Belgium Show Their Opposition to the Persecution and Their Support for Withdrawing from the Chinese Communist Party ( Photos)
April 20, 2007
|
By a practitioner in Belgium
(Clearwisdom.net) The "Quitting the CCP Service Center" in Belgium held activities in Chinatown in Brussels on Saturday, April 14, 2007, to support the 20 million Chinese people who have quit the Chinese Communist Party and its affiliated organizations. The banner "Supporting 20 Million Chinese Quitting the CCP" was extremely eye-catching, and the posters exposing the organ harvesting from live Falun Gong practitioners were even more striking to people. Most of the local people passing by stopped to read the posters and read the materials they received. Many people showed their support for the event, while some even expressed their encouragement and admiration for the volunteer workers at the service center.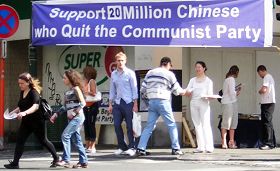 Local people accept the flier exposing the CCP's atrocities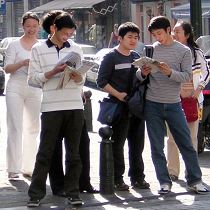 A group of Chinese students read the literature for quitting the CCP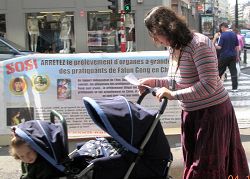 A mother who is concerned about the details of the persecution
Many people expressed their condemnation of the CCP's atrocities by signing the petition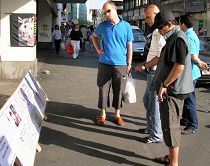 Local people and tourists stop by, and want to learn more


The CCP's persecution of Falun Gong is shocking and horrifying
Many westerners joined in the activity on their own initiative. They helped in this event and clarified the truth to passersby, especially the Chinese people. They told people about the persecution of all Chinese people and the great tide of quitting the CCP and its affiliated organizations.