New York: Falun Gong--A New Subject for College Students in Long Island (Photos)
March 24, 2007
|
By a practitioner in Long Island
(Clearwisdom.net) At the invitation of some students of SUNY Stony Brook University, Falun Gong practitioners from Long Island attended an open forum on Falun Gong held by the students on March 15, 2007.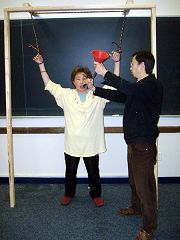 Practitioners reenact the torture methods that the Chinese Communist Party employs in the persecution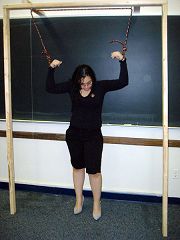 Student tries to experience the torture that practitioners in China endure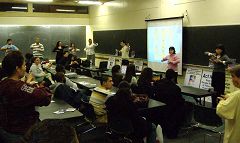 Falun Gong Exercise Demonstration: many students follow the instructions and learn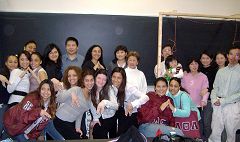 Students have group pictures with practitioners
The forum was hosted by students. One student described how she has been watching the situation of Falun Gong over the past three years and expressed her views on Falun Gong. Her speech won big applause.

Then practitioners conducted the exercise demonstration. Many students followed the instructions and learned the exercises. They were really interested in the exercises. Using a slide projector, a practitioner explained what Falun Gong is, the relationship between cultivation and practice, and what "xinxing" (spiritual or moral) improvement is. It was suggested that they read the book "Zhuan Falun." The practitioners also displayed over 60 pictures that depicted the persecution of Falun Gong in China, and explained why Jiang Zeming and the Chinese Communist Party (CCP) are persecuting Falun Gong.

Seeing the bloody pictures and listening to the practitioners' explanations, the students were shocked. They truly sensed the evilness of the CCP. Many of them indicated that they would try to let all students know about the persecution going in China.

Practitioners reenacted three torture methods that the CCP has used in the persecution. Some students even tried to experience the torture methods.

The practitioners answered over 20 questions posed by the students, such as the changes one experiences after taking up the practice, what does it mean to practice in only one school, the persecution of other beliefs in China, how to do the exercises, how to rescue those children related to the persecution of Falun Gong in China, how safe is it to practice the exercises at home in China, and so on. All the students enthusiastically signed the petition calling for an end of the persecution of Falun Gong. They indicated that the petition should be mailed to the President of the United States.

At the end, the students invited practitioners to have a group picture.