(Clearwisdom.net) The St. Patrick's Day festival is a widely celebrated festival around the world and falls each year on March 17th. Falun Dafa practitioners from outside Ireland have participated in many St. Patrick's day parades but 2007 in Port Laoise was the first time that the Irish group participated. The presentation of the Falun Dafa meditation practice accompanied by beautiful traditional Chinese dancing and thunderous Chinese drumming was warmly applauded by the audience.
The parade in Port Laoise had 46 entries and over a thousand participants. Local people lined the streets to watch friends and family from clubs and groups entertain the crowd. The weather was windy and rainy as is the tradition for St. Patrick's Day, but it did not dampen the spirits of participants or the audience as big crowds lined the street.
As you can see from the pictures below, the dazzling golden suits of the drummers and beautiful costumes of the dancers beamed through on the wet and windy day. The whole parade was very well arranged and Irish Falun Dafa practitioners were grateful for the opportunity to show the beauty of Falun Dafa to local people and give them the opportunity to get to know the practice.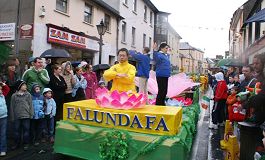 Falun Dafa exercise demonstration on the float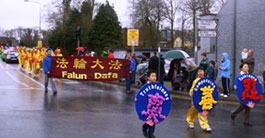 Falun Dafa group in the parade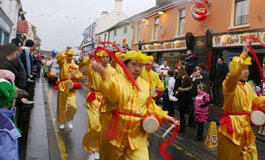 Traditional Chinese drum display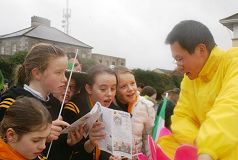 Children were very interested in finding out more