(Clearwisdom.net) The Chinese New Year is here, a time when families reunite. There are a group of children however who were separated from their parents after the wicked Chinese Communist Party started persecuting Falun Gong on July 20, 1999, making these innocents suffer at a young age. While other children enjoy their doting parents, these children shed tears and think of their parents, who will never return to their side.
They are orphans whose parents died from the persecution of Falun Gong at the hands of Jiang Zemin and his accomplices, for persisting in their practice of Falun Gong and in the principles of Truthfulness-Compassion-Forbearance. Many are young and delicate, helpless and struggling in this world.
Father Shao Hui Died from Persecution, Mother Mu Ping Facing Illegal Trial, Young Son Shao Linyao Knows Nothing About his Parents' Plight
Falun Dafa practitioner Mr. Shao Hui from Huadian died as a result of persecution in Jilin City in August 2002. Even now, his son Shao Linyao doesn't know that his father was murdered. Shao Linyao had a joyless childhood as he lived through the police repeatedly arresting his parents. He endured loneliness, helplessness, fear and worry from a young age.

Shao Linyao
When his mother Mu Ping was released from a labor camp on medical parole after nearly three years of persecution, Shao Linyao followed her everywhere because he was afraid of losing her again. He never slept at night until his mother returned home, no matter how late. He would sit up and wait for his mother. When his mother told him that he must go to bed early as he had to go to school the next day he said with tears in his eyes, "I'm afraid the bad people will take you away if you go out. I can't calm down when you are not home."
National Security officials in Jilin City arrested Mu Ping at work on October 24, 2006. They ransacked Mu Ping's home, along with officers from Mengjiatun Police Station in Changchun City. They took computers, cash, a 70,000 yuan bank deposit slip, Dafa books and truth clarification VCDs. They took Mu Ping to Room 608 at the Jilin City Detention Center, where she has been held for the past three and a half months. Chuanying District Court in Jilin City is planning to illegally try Mu Ping.
Eleven-year-old Shao Linyao and his grandparents, who are currently taking care of him, knew nothing about what had happened to Shao's mother, Mu Ping. Mu Ping previously had called her son every two weeks or once a month, but she has not called in the past three months. Shao Linyao often cries secretly under his bedcovers because he hasn't heard from his mother. When his grandparents tell him, "We haven't heard anything from your mom," he tries to comfort them and says, "Don't worry about it. Maybe they are arresting lots of people right now. My mother is probably hiding somewhere."
Shao Linyao has been living with his grandparents since his mother's arrest, but his grandparents are suffering from deteriorating health, which makes his life difficult. Shao Linyao's grandfather is 76 years old and underwent two glaucoma and cataract surgeries. He nearly lost all of his eyesight from constantly worrying about his son Shao Hui. His grandmother is 69 years old, has been sick for the past six months, and is receiving injections.
Shao Linyao's grandmother is worried about who would take care of her husband and grandson when she passes away. Even now, they do not know about the death of Shao Hui and they do not know Mu Ping is facing trial. Shao Linyao's grandmother often says, "Our family has suffered too much during the persecution. My daughter Shao Ling was sentenced to 12 years in prison. My son Shao Hui has disappeared for five or six years. Mu Ping used to call home once a month, but now we never hear from her." She cries as she says these things. She cannot remember her own age, but she clearly remembers the day when Shao Ling was illegally arrested and the day when Shao Hui broke free from the labor camp with righteous thoughts. The old couple can no longer take care of themselves, not to mention taking care of their grandson Shao Linyao.
Grandmother and Father Died from Persecution, Mother Sick from Cancer, Xu Shuai Living a Difficult Life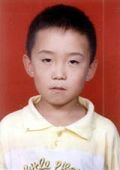 Dafa practitioner Xu Weidong's son: Xu Shuai
Xu Shuai is now 16 years old. His mother left the family and remarried when he was young because of the family poverty. Xu Shuai grew up with his father and grandmother. When he was six years old he practiced Falun Dafa with his father and grandmother and often went to study the Fa and share experiences. He also went to practice sites to do the Falun Gong exercises with other practitioners. After the Party started persecuting Falun Gong on July 20, 1999, the police and street Party officials frequently harassed his family at their home. They also arrested and sent them to detention centers and labor camps, which traumatized young Xu Shuai.
Xu Shuai lost his grandparents, one uncle and his father during the seven-year Falun Gong persecution. Currently, Xu Shuai's other uncle and aunt are taking care of him. His uncle has a low income however, and he can no longer afford the daily expenses of taking care of Xu Shuai. His aunt's home has only one room, and his aunt's husband no longer lets Xu Shuai stay with them. Xu Shuai used to be a good student, but his grades dropped because he is worried about his life.
Mother Died in Persecution, Pu Yonghe's Grandmother Works 11 Hours a Day To Pay for His Education
Dafa practitioner Cui Zhengshu from Jilin City was sent to labor camp(s) twice. The guards at Heizuizi Labor Camp ordered inmates to deprive her of sleep for more than 30 days. She managed to sleep only 22 hours in 33 days. Please refer to article
"Commemorating Fellow Practitioner Ms. Cui Zhengshu" at http://www.clearwisdom.net/emh/articles/2003/9/8/40022p.html.
The labor camp authorities sent her home on medical parole on April 18, 2003, when she was extremely weak and could not eat or take care of herself. Her condition worsened in early August 2003 and she passed away on August 12, 2003.
Thirteen year-old Piao Yonghe lost his mother. His grandmother took care of him. His 73-year-old grandmother works 11 hours a day to make 400 yuan per month. She doesn't have much time to take care of Piao Yonghe and is often forced to leave him alone at home.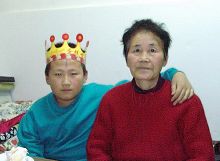 Piao Yonghe and his grandmother
Wang Zilin Disappeared more than Six Years Ago, His Daughter's Biggest Wish is for her Beloved Father to Appear in Front of Her!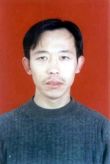 Wang Zilin
Dafa practitioner Wang Zilin worked at Jiangbei Forestry Farm in Jilin City. He started practicing Falun Dafa in May 1997 and went to Beijing to peacefully appeal on November 19, 2000. He never came home, and no one heard from him. His family went to Beijing twice looking for him, but they couldn't get any information.
Wang Zilin's daughter Wang Lili is 16 years old and is mature for her age. She often comforts her mother, knowing her mother is in poor health. Her mother does temporary jobs to make 400 yuan per month. She suffers from herniated lower spinal discs. Sometimes she goes to work with a steel rod fixed to her back in order not to lose her job. Wang Lili told a Dafa practitioner who went to visit her, "I feel like I see my father when I look at you." She cried. Sometimes the mother and daughter cry when life becomes exceedingly difficult. Her biggest wish is for her beloved father to appear in front of her some day!
Mother Mu Chunmei Detained, 15-year-old Liu Zhonghao Takes Care of Grandmother
Dafa practitioner Mu Chunmei was arrested in March 2006 and was later held at the Masanjia Forced Labor Camp, where she was tortured in various ways. Her family asked to meet with her many times, but the guards refused. Her son Liu Zhonghao is 15 years old, but his eyes are filled with sadness. Liu Zhonghao lived with his grandparents after his mother was arrested. They could barely survive on Liu Zhonghao grandfather's salary, but his grandfather passed away three months ago, and Liu Zhonghao lost his only source of support. Liu Zhonghao once ran a great distance into the mountains and cried in front of his grandfather's grave because he missed his grandfather and mother.
Liu Zhonghao is now living with his grandmother who cannot walk due to rheumatoid arthritis. He does house chores and takes care of his grandmother. They are living on his grandfather's ten-month pension, but they don't know what they will do after the ten month pension runs out. Liu Zhonghao wants to see his mother at the Masanjia Labor Camp, but he is worried about his grandmother should he go to the labor camp. When someone mentioned his mother, he covered his face and sobbed.