(Clearwisdom.net) The Divine Performing Arts Touring Company held a second show at the Broward Center for the Performing Arts, Fort Lauderdale on December 28, 2007. The two consecutive shows made a big impression on the Florida audience.


Musician Daniel Lopez said that the show was wonderful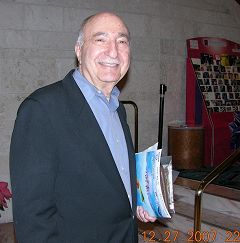 Charles Cinnamon is proud to do media publicity for the two shows in Fort Lauderdale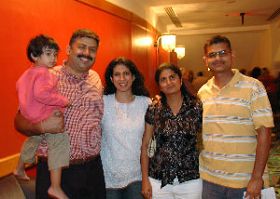 A fashion designer (second from right) remarked that she liked the whole program, with it rich performances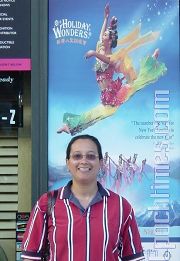 Katia Espinal learned about Chinese dynasties from the show
Musician: This is the best show I have ever seen.
"The show was wonderful and awesome. The performers had a little smile on their faces, straight from the heart. Their faces were radiant. They knew what they were doing," said musician Daniel Lopez after watching the show on December 28.
Mr. Lopez said that in one performance, "It seemed that I was in water and felt small rain droplets on my face. Her arm movement was just like flowing water."
Mr. Lopez said what he liked most was the dance, "The Loyalty of Yue Fei." "This is the best show I have ever seen."
Well-known public relations figure: This is genuine Chinese culture.
Charles Cinnamon, a well-known public relations figure, said it was an awesome, perfect and exciting show. He said it was different from other shows on Broadway and was unique. It is genuine Chinese culture and promotes good values.
"I enjoyed each part of the show, including the dancing, music, the costumes and backdrops. It was a high quality performance."
Mr. Cinnamon indicated that he liked the two performances that were about Falun Gong, because they presented the facts occurring in China today.
Fashion designer: The show is awesome, spectacular
A fashion designer who worked in Singapore a few years ago and learned about Chinese culture also attended the show. She and her husband watched the second performance with their friends. She said, based on her background in fashion design, "The costumes were very good in color and combination. The backdrops were excellent. I'll tell my friends: the show is awesome, spectacular, and very nice."
Senior Technical Analyst: Chinese culture is gentle and graceful
Katia Espinal, a senior technical analyst, said she liked all aspects of the show, including the songs, lyrics, costumes, and backdrops. From the show, she learned about different the dynasties of Chinese history.
Ms. Espinal lived in New York for ten years and has seen many shows on Broadway. She said, "A big difference [between this show and others] is that I noted that this show is not noisy. I guess that Chinese culture is calm and the dancing is gentle."
Jamaican-Chinese: It is creative to present Chinese culture through art
Grace Hostang, a Jamaican-Chinese, likes Chinese culture very much. She said that Holiday Wonders was excellent, and she thought that it was creative to present Chinese culture through art.
She liked the dance, "The Power of Awareness" and was impressed with the three words, "Truth-Compassion-Tolerance". She said the world would be much better if everyone would safeguard justice as do the people in the show.