(Clearwisdom.net) It has been three months since the beginning of the Human Rights Torch Relay, initiated by the Coalition to Investigate the Persecution of Falun Gong (CIPFG). During this time it has traveled to over 20 countries in Europe, and in Australia through many cities in the states of New South Wales and Queensland. At 7:30 p.m. on November 16, 2007, the Torch Relay reached the cultural capital of Australia: Melbourne, Victoria.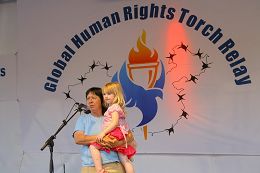 Aboriginal elder Annette Xiberas of the Wurunjeri tribe
President of the National Civic Council and delegation leader for the CIPFG, Victorian Branch, Peter Westmore
�Melbourne Democrat Party candidate Tim Wright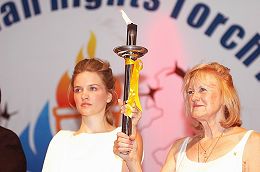 Australian Torch Relay ambassador Jan Becker announces the beginning of its journey through 50 cities in Victoria
On the evening of the 16th, on the outdoor stage of Federation Square in Melbourne's city center, a magnificent welcome ceremony was held for the Human Rights Torch Relay. On the morning of November 17th at 11a.m., the torch relay in Victoria was officially started on the main streets of Melbourne's city center. Representatives from the Melbourne Alliance of the Chinese Democratic Movement, along with members of the Polish, Sudanese and Vietnamese communities participated in the parade.
During the parade, more than 10 banners were prominently displayed to convey a clear message, and they attracted the attention of many bystanders. On the banners were phrases such as, "We support the Chinese people to hold an Olympics without the Chinese Communist Regime", "The Olympics and Crimes Against Humanity Cannot Coexist", "No Human Rights, No Olympics", and "Stop the Organ Harvesting from Living Falun Gong Practitioners."
A rally was held after the parade at Queen Victoria Park. In the two weeks to follow, the Human Rights Torch will pass through more than 50 regions of Victoria.
At the Torch Relay Ceremony on November 16, leaders and representatives from many community groups addressed the audience.
Aboriginal Elder: "The Human Rights Torch brings honor to this land."
Aboriginal elder Annette Xiberas of the Wurunjeri tribe addressed the audience with her daughter in her arms. She welcomed the Human Rights Torch to Melbourne, and said that the torch brings honor to the land. She said, "We don't think it's right for the Olympics to be held where people are still being persecuted. ... This torch relay has brought the issue to many shores, and hopefully will bring it to many more shores. Today I stand with my daughter and only hope that this torch is a stepping stone so we will not have to worry about our children's rights and their freedoms tomorrow."
President of the National Civic Council: "We have the obligation to stand in battle with those who are under persecution"
President of the National Civic Council and delegation leader for the CIPFG, Victorian Branch Peter Westmore is a firm advocate for human rights. He has dedicated his life's work to building a moral society. Mr Westmore said, "Let me say how privileged I am to be here. ... I say it's not only a privilege to be here, but it's our obligation to stand alongside those who are being persecuted in the course of life."
"In China, tens of thousands of Falun Gong practitioners are imprisoned today. Their organs are being harvested live and sold to people, including many people from overseas who need organ transplants. If you still don't understand the situation of human rights violations in China, you only need to download a report from the website of David Kilgour, to realize how the Chinese Communists are persecuting Falun Gong." He then provided the audience with the website address to download the report.
(http://organharvestinvestigation.net/)
With regard to the announcement made by the Chinese Communist regime on November 8 this year, "Athletes and tourists who hold religious beliefs will be allowed to bring religious items for personal use through customs. This policy does not apply to the Falun Gong group...", Mr Westmore said it is only under international pressure that the CCP is allowing believers of other religions to bring religious items into China, as these were originally forbidden. However the persecution of Falun Gong continues, and they continue to imprison Falun Gong practitioners--this has not changed one bit. Mr Westmore also said that if China does not improve its human rights situation, it is not qualified to hold the Olympic Games.
Former Olympian says that to hold the Olympics in Beijing is to tarnish the Olympic Spirit
The Australian Ambassador for the relay is Ms. Jan Becker, who was a swimmer on the Australian team in the 1964 Tokyo Olympics. In her speech, Ms. Becker said, "In 2001, I met up with some International Olympic Committee (IOC) members. They assured me that China would improve, that if China gets the Olympics, they would change their human rights abuse. It's been proven over the last seven years that they haven't. They've committed the worst atrocities that mankind has seen. And as an Olympian, I'm ashamed to say they are holding the Olympics in Beijing."
The widow of a renowned race driver says our apathy amounts to support for the tyrannical regime
Also at the event was Ms. Bev Brock, widow of the late Peter Brock, a renowned race driver. Following the tragic accident of her late husband, she became a media focus and in the eyes of many, a symbol of courage, dignity, and courtesy.
Ms. Brock said, "You are here because you care. ...With the Beijing Games, we have the opportunity to focus world attention in a country where they need to really look. Darfur...Tibetan region...many, many places in this world....and for us to ignore their plight is tantamount to supporting what is going on in their countries." She also said, "As an individual, you might feel that you don't have the power to achieve the results. But let me tell you, you do. ...You can talk to your fellow man, you can encourage them, to look at this�"it's too hard, too painful for many people to look at what's going on in China. ... It is too painful and so they walk away. You've got to wake them up." "Let's do something. Let's take the opportunity while we have this torch relay coming through Australia, to make a stand."
Democrat Party candidate, "The Australian government should not be silent"
Melbourne's Democrat Party candidate Tim Wright said, "In China, Falun Gong practitioners are being killed every day. Their organs are harvested live and being sold on the black market. We feel outraged, and the thing that makes me particularly angry is the silence of the Australian government toward these issues. We need a strong and loud voice to express our desire for human rights, democracy and freedom."
Chairman of the Darfur Australia Network, Mr Alpha Lisimba, President of the All Burma Students' Democratic Front Mr Nweni Tun, former Chinese national basketball team member Kai Chen, and Auxiliary Roman Catholic Bishop of Melbourne Hilton Deakin were also among the many people who spoke at the Torch Reception Ceremony.
At the torch lighting event on November 17, government officials spoke in support of the Human Rights Torch Relay.
Greens Party Councilor from the City of Maribyrnong Janet Rice said, "Today, it is my honor to be a torch bearer in the Human Rights Torch Relay parade. In fact, all of us are bearers for the Human Rights Torch relay. Together, we are sending a message to the world: In China, innocent people are suffering, people are being tortured and imprisoned, and we should help them."
She said, "Today we are making history. As the Human Rights Torch is passed around the world, we are applying more pressure on the Chinese Communist regime. We know many people have certain concerns in dealing with the Chinese Communists. Politicians are worried about damaging our trade relations, athletes are afraid that their sponsors will be affected. We must let them understand - no! Some things are more important. As human beings, our fundamental humanity and human rights are more important to these material gains."
Dr Con Dean, representative of the Vietnamese community in Melbourne, said the Chinese Communist regime is very similar to the Vietnamese Communists. They persecute various beliefs, and people do not have fundamental human rights in either country. He considers that the Human Rights Torch activity will not only help Chinese people, but also the Vietnamese people, in helping them to conquer their fear and find freedom.
A Polish community representative lived under communist rule for 37 years. She said, "I know what it is like to live in a communist country, it is filled with fear and despair. I am an athlete. I think the Olympics should only be held in democratic countries, and that we cannot go on without paying attention to human rights. But many people have not realized this. For example, as our parade proceeded today, the interest of many people were the Christmas decorations in the shop windows. They were only thinking about buying their children some cheap clothes, and toys that were made in China as presents. They have been brainwashed, and are apathetic toward the human rights abuses happening in China. I am proud of the conscience and courage which has been brought about by the Human Rights Torch activity."
Former Chinese basketball team member Kai Chen, Vice President of the Federation for a Democratic China Liang Youcan, and Burmese community representative NweNi Tun also delivered speeches in welcoming the Human Rights Torch to Melbourne.
The Global Human Rights Torch Relay, which was initiated by the Coalition to Investigate the Persecution of Falun Gong (CIPFG), started off in Athens, Greece on the 9th of August. It has since been making its way through over 100 cities in more than 30 countries throughout Europe, America and Asia. Thousands of MPs, lawyers and human rights advocates are taking part in the campaign. The Torch Relay, which will run for one year, is aimed at calling attention to the human rights issues in China, and putting a stop to the persecution of Falun Gong and other groups in China. The Human Rights Torch will be relayed through Victoria for two weeks. As the relay progresses, more and more people around the world have come to understand the current human rights disaster in China and are condemning the brutality of the Chinese Communist Regime.