(Clearwisdom.net) On October 27, Falun Gong practitioners from Singapore and Malaysia gave a public performance in Kuala Lumpur's bustling commercial and tourist center, the Bukit Bintang District. Many people stopped to watch and listen.

Singaporean and Malaysian practitioners gave a waist drum performance in the Bukit Bingtang District, Kuala Lumpur
Many people took pictures of the performance
A mother took a picture of her child posing in front of a "Falun Dafa is Good" banner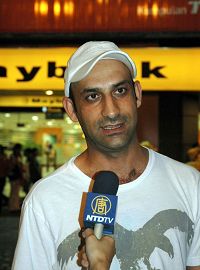 Canadian tourist Alex said that he enjoyed the performance
Led by several celestial maidens, the waist drum troupe marched along Jalan Alor Street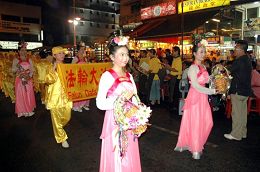 The performances started at 7:30 p.m. at a reserved site in the Bukit Bintang District. The joyful music attracted many people to stop and watch. Besides the waist drum performance, there were also practitioners dressed a celestial maidens, to distribute Falun Dafa bookmarks. One of the troupe members, Ms. Li, said that it took a long time for them to get to the performance site because there were so many people requesting to take photos with them en route.
Ms. Yang is a member of the waist drum troupe. She said, "The Malaysian Falun Dafa Experience Sharing Conference will be held on October 28. Taking this opportunity of so many practitioners getting together, we wanted to present this public performance to introduce Dafa to the local people."
Saudi tourist Tala-Alsider is an actor. He used his cell phone to take many photos of the performance. He said, "The performance is very good and I enjoyed it very much. This is my first time to see such a performance. Members of the troupe cooperated very well. It was great."
A visitor named Alex from Vancouver said, "I enjoyed the performance. In particular, I like the beautiful yellow outfits. Performances that showcase traditional culture are often welcomed by the public."
Arky from Jakarta said, "I have seen performances by Falun Gong practitioners before. I think that this is a very good healing practice."