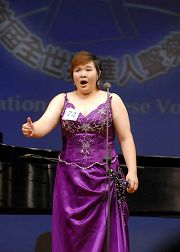 Shi Yiqiao: Contestant No. 72 in the semifinals of the Female Bel Canto Division sang "Wild Fire," "Wan Xi Ya Ci," and "O mio Fernando" from Italian composer Gaetano Donizetti's opera "La Favorita."
After the semifinal round, the contestants said that they were pleased to see so many outstanding Chinese artists gathered together, performing at a professional artistic level, and also emphasizing interpreting inner meaning of songs. This helped them strengthen their confidence in pursuing Chinese Traditional art. They expressed gratitude to the New Tang Dynasty Television (NTDTV) for providing such a platform for making authentic Chinese art available to the international community. They regarded their participation in the competition as a process of exchanging insights and understanding and improving themselves, and opening up new thought in vocal art. At the same time, they firmly believe that Traditional Chinese art will shine brilliantly on the world's stage.
Judge Mr. Lan Yeliu highly commended the standards of the contestants. He said that he had been a judge numerous times, but this time, the professional standard of this competition still amazed him. He said that if the winners of the final round of the competition held a concert in Carnegie Hall, the quality would not be inferior to that of Western artists. It would be an absolutely professional concert.
Setting an international standard, and displaying Chinese vocalists' demeanor on the world's stage
American contestant Qi Guosheng complimented the competition for setting an international standard, in terms of the number of contestants, the regions they came from, contestants' artistic expression and scope of songs that traverse different countries and times from ancient times to the present. He said, "Contestants I have met all said that the competition has been very successful, with talented artists converging."
Mr. Lan Yeliu said that New York is the center of the world's culture and art. Holding a vocal competition in New York where Chinese people can display their talents in this international metropolis--he was touched. He believed that a showcase of Chinese traditional culture and art on the world's stage is the wave of the future, and also the main purpose for the competition.
Competition Showcases Traditional Chinese Culture and Art on the World's Stage
Contestants Lin Jianji and Tang Fakai, who will compete in the final round, said that Chinese songs have profound meaning, and are different from western songs. The competition is a showcase of Chinese traditional culture and art on the world's stage for the first time.
American contestant Guo Ying said that these songs of ancient poems were recreated by artists who returned to China from their overseas study in the 1920s and 1930s. They had both the refined nature of Chinese culture and western artistic skills. Their works outstandingly express the inner power of Chinese ancient music.
Guo Ying said that Bel Canto emphasizes acquired skills through training, and reflects dramatic changes of music. Folk singing expresses people's state of life and their feelings, and more easily touches people's hearts.
Tang Fakai said that these songs are an attempt to use Bel Canto singing to interpret ancient Chinese poems expressively.
Melody and lines rarely heard in the West
Tang Fakai highly praised the singing in the folk song division. He said that Traditional Chinese traditional folk singing has a pleasing quality, and the melody and lines are rarely heard in the West.
He also said that as long as we have a stage, others will be able to see that we have the same capability as Westerners in interpreting arts, and also this is our culture. We can also incorporate our things with the outstanding things in the West.
Chinese songs have profound meaning
Taiwan contestant Lin Jianji said that westerners are direct in expressing their feelings, but Chinese people are more reserved. Chinese songs have a realm of profundity, and have lasting appeal. Art is something with long-term accumulation, and it can only last forever with its inner meaning.
He said that the singers' life experience is very important but it doesn't just depend on their voices. When they incorporate their refined nature and attitude toward life into their singing, coupled with a compassionate state of mind, their singing will carry meanings; otherwise, they would be only a vocal machine.
Contestants embody the aim of the competition, singing emphasizes expressing inner meaning
Singapore contestant Yin Zuofa said that skills are important to singing, but when one reaches a final stage of achievement, there should be no skills. Singing looks simple--just open your mouth, and you can sing. But if you want to sing well, it is difficult. Regardless of what language--Italian, French, German, Chinese or other -- to sing a song well, the singer must understand the intention of the composer, the story behind the song, the life style that the song is about and so on. He said, "The difficult part of singing is the understanding and interpretation of culture. Actually as far as the voice itself is concerned, I don't think it is very difficult."
American contestant Zhao Weining said that the vocalists' interpretation of music manifests their life experiences. An outstanding singer should not only have professional vocal knowledge and skills, but also have a good state of mind, rich feelings, a noble character, refined nature and profound knowledge pf literature, and a deep understanding of life. These qualities will enable the singers to sing songs with vitality.
The gathering enhances confidence in pursuing traditional Chinese culture and art
Australian contestant Zhang Lichen said that the competition has been very successful, showing the value and vitality of traditional art, and also enhancing her confidence in seeking the root of Chinese culture. When carrying forward traditional Chinese culture, there are so many people walking on the same path, her confidence was strengthened and she was very pleased.
American contestant Jason Fuh said that the singers in the competition interpreted the inner meaning of traditional art, it is very meaningful. It is very hard for Chinese people to compete with others in such a field. Chinese vocalists have a hard time finding room to develop. Seeing so many outstanding Chinese artists in the competition, his confidence in pursuing traditional art was enhanced.
Traditional Chinese art will stand among the world's cultures
Mr. Han, an overseas Chinese from New Jersey, said that the contestants introduced outstanding skills to the world, and also proved to the world that there are first-class Chinese singers. He believed that traditional Chinese music and culture will stand out among the world's cultures with its unique artistic charm.
He said that contestants' performances had the highest beauty and artistic influence, and also were closer to the audience with their truest demeanor.
President of the Judges' Committee: We Do not want to eliminate one contestant
During the noon break of the semifinals, the president of the Judges' Committee of the vocal competition, Mr. Guan Guimin, said that it's hard to judge contestants' level, and that the judges had a difficult time making a decision. They wanted every contestant to advance to the final round, but that was impossible. He said the contestants' level was first class, comparable in quality with any international vocal competition held in Italy, Germany, Russia or other country.
He also said that many contestants registered for Bel Canto Division, so the competition is very intense. Actually in his view, some contestants' voices are also suitable for folk singing. If they registered for folk singing competition in the first place, they may have won awards. But in the Bel Canto Division, they may not win the awards.
He said that there is no obvious boundary between Bel Canto and folk singing with respect to skills. In the past, Beijing opera artists, such as Cheng Yanqiu and others, were also Bel Canto singers. Folk singing requires hard training in clear articulation and in expressing the folk quality.
Participation is important, promoting traditional culture is the top priority
Contestant Wang Yajun from Norway said that the competition as a whole has been at a high level, not only in professional skills, but more importantly, that the contestants have relatively righteous demeanor regarding values. It is a combination of righteous strength.
Contestant Liu Maoguo from Japan entered the semifinals. She said that there was no athletic-style struggle between contestants, but there was an intimate feeling, as if they had known each other before. Contestants exchanged like friends, with everyone contributing in carrying forward traditional culture.
Liu Maoguo also said that from the singing of different contestants, she could experience pure and simple feelings like among friends and relatives. She also felt an elevated caring and gratitude. She said, "I feel a clear and clean flow of art, and also see the profound foundation of Chinese culture."
"The First International Chinese Vocal Competition" will enter the final round on October 17, and the award ceremony and reception will also be held on October 17. The Divine Performing Arts will present a special performance on the evening of October 17.