(Clearwisdom.net) The New Tang Dynasty Television (NTDTV) Chinese New Year Spectacular presented its second performance on the evening of January 6, 2007 in San Francisco. The opera house was packed with more than 3,000 audience members who gave enthusiastic responses to the performance. Professor Hunt from Stanford University commented after watching the performance that it was the best performance he had ever watched.
Dance, "The Vows of Old": Compassionate gods make vows to come to the earth to save sentient beings, and rejoice over the fact that human beings will have been bestowed with an opportunity to be saved.
Dance, "Celestial Maidens": In legend, celestial maidens in the heavens are pure and beautiful, flying in the heavens freely.
Tickets for Sunday once again were sold out. More than 50 audience members bought standing room only tickets, and stood watching the entire program. The exquisite program and profound inner meaning moved the audience.
The tickets for the second performance in San Francisco were sold out several days prior to the performance. The same evening, some additional standing room only tickets were also sold. The entire evening, the atmosphere was expectant, the performers' performances were wonderful, the hosts made humorous and amusing introductions to each performance, and the audience gave a lot of favorable comments on the performances.
Professor Patrick Hunt from Stanford University said, "The Erhu music was beautiful, flowing directly into my heart. This is the best performance I've ever watched. I don't think we can return, but we can share; this cultural heritage is wonderful. My point of view is that the gift tonight's performances presented to us is remarkable."
Dr. Patrick Hunt, professor of Classical Literature at Stanford University being interviewed by NTDTV in the hall of the Opera House
Chief executive officer from KBWB TV, Bob Anderson said, "I love all of them. I think the soprano and alto are wonderful. The harpist is even more amazing."
Member of Union City Council, Manny Fernandez said, "I liked all the performances. I particularly appreciate the host and hostess. Their facilitating introduction to each performance was very good. Such as, the shoes. But for their introduction, we may not have paid attention to the shoes. Because of the hostess' introduction, the audience then could appreciate the characteristic of the dance. The host and hostess introduced each performance in fluent Chinese and English. They gave an interesting introduction to every performance."
U.S.-Taiwan Business Council Chairman, Wang said, "There is such high-standard performance among our Chinese people, and the performance is so elegant; it is really not easy. I'm glad to have come here."
Government officials in San Francisco sent congratulatory letters and proclamations, showing appreciation to NTDTV's unique contribution to spreading traditional Chinese culture, and promoting the principles of diversity and harmony in society.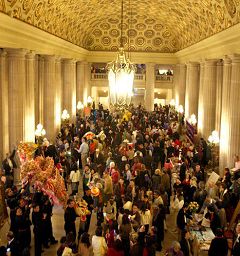 The audience is reluctant to leave after the performance was over, and continues watching the Dragon Dance and Lion Dance performances.