(Clearwisdom.net) After former pilot of China Eastern Airlines and Falun Gong practitioner Yuan Sheng was reported for talking about the Nine Commentaries on the Communist Party and advising three people to quit [the Chinese Communist Party and associated entities], he had to request refuge status in the USA. This attracts concerns from different groups of people, and also brings to the forefront the persecution suffered by Falun Gong practitioners employed as pilots. Despite the strict blockage of information from China, it was discovered from news reported outside of China, that at least seven pilots who practice Falun Gong have suffered persecution. In early 2002, Shuangkou Forced Labor Camp in Tianjin tortured pilot Liu Ping, who was in his twenties, to death.
The seven Falun Gong practitioners include flight instructor Mou Yingsheng of China Eastern Airlines who worked with Yuan Sheng, Li Fengyou from Zhuhai, Shen Wenjie and Yu Changxin from Beijing, Zhang Guoliang from Guangzhou, Bai Hongzhi from Harbin, and also Liu Ping from Tianjin. Liu Ping had died due to persecution.
Yuan Sheng said that to become a pilot is rather difficult. One needs to be knowledgeable about advanced technologies, be in excellent health, and pass rigorous training. While these well performing pilots contribute to the wealth of the country, they are persecuted for no legal reasons. This is a tremendous loss and tragedy to the country and nation. Yuan Sheng said that although he gained his freedom, he cannot reunite with his family. But, he still feels "fairly lucky," compared to his former co-workers.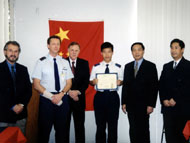 Beijing pilot Shen Wenjie (fourth from left) receives flight training certificate in USA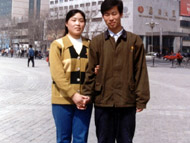 Shen Wenjie and fiancée Dong Cuifang. Dong Cuifang died from persecution by police while in prison. Shen Wenjie received a five year sentence term.
Mr. Liu Ping Dies from Persecution in the Forced Labor Camp. The Hospital Issued Fake Documentation
According to a Minghui article in early 2002, Shuangkou Forced Labor Camp in Tianjin tortured pilot Liu Ping, who was in his twenties, to death. After the Chinese Communist Party (CCP) began to persecute Falun Gong on July 20, 1999, Liu Ping was fired for appealing for Falun Gong, and taken to Shuangkou Forced Labor Camp in 2000.
Because he refused to give up Falun Gong, Liu Ping was forced to work in slave labor. He had to pick out certain colored plastics from trash that emitted noxious fumes and mold smells for 22 hours daily. After working continuously for ten days, Liu Ping came down with tuberculosis and scabies. His entire body oozed pus, and itched unbearably. His family fought for his release, but Song Pingshun, head of the Tianjin 610 Office, claimed that Falun Gong practitioners "die inside if the do not write the guarantee statement."
To prevent Liu Ping's illness from spreading, guards put him in an isolation room with no bed or heating. They made him work long hours daily, until he died.
An insider recalled that on the morning after the 2002 New Year, guards found Liu Ping dead on the floor in the library after he had worked straight for twenty hours. His entire body discharged pus from the scabies. The blood, flesh and clothes stuck together. It was a horrible sight.
Guard Zheng Junhong later told prisoners, "The one of you who can issue proof that he died in a hospital will be immediately released." A prisoner's mother worked in a hospital. So this prisoner could go home immediately, he arranged for a fake death certificate to be issued. Liu Ping was then "legally cremated" without any delay.
Fiancée Dies Tragically in Prison. Shen Wenjie at Capital Airport Received a Five Year Term
Mr. Shen Wenjie is from Xingtang County, Hebei Province. Shen Wenjie's flying skills were excellent. He was thus given permission to go the the U.S. for advanced studies by management at the Capital Airport. This allowed him to become an excellent pilot.
Shen Wenjie and his fiancée Dong Cuifang, who also worked in Beijing, began to practice Falun Gong in 1996. In the second half of 2000, they had to give up their jobs to avoid arrest. They became destitute.
In late 2001, they were reported for telling the truth of Falun Gong, arrested and taken to Shunyi Detention Center in Beijing. Two years later, they were both sentenced to five year terms by the Shunyi District Court. Dong Cuifang was transferred to Beijing Daxing Women's Prison. She was tortured to death by Division 3 guard Tian Fengqing and others, at the age of 28, on the eighth day.
The medical examiner's post mortem report confirmed that Dong Cuifang died from inhuman beating by the guards. Her legs were swollen and purple. The entire lower leg, below the knees was covered with purple bruises. The bone and muscle on the right shoulder was separated. Her entire body was covered with blue and purple bruises.
It is rumored that Shen Wenjie is now detained in Daxing, Beijing. Details are unknown.
Minghui reported that they had been in love for nearly ten years. They were very attached to each other and Shen Wenjie may not have been told of the death of his fiancée.
Flight Instructor Mou Yingsheng Received Three Years of Forced Labor Because of Three Words
According to a letter to The Epoch Times, flight instructor Mou Yingsheng of China Eastern Airlines Jinan Branch, who was part of Yuan Sheng's flight team in 1989, was sentenced to three years of forced labor because of the words "Truthfulness, Compassion, Forbearance," when he was a 52-year-old senior pilot of China Eastern Airlines.
In the forced labor camp, Mou Yingsheng suffered high blood pressure and was released on bail for medical treatment. Afterwards, his former employer sent people daily to "transform" him, and to limit his personal freedom.
Certainly No Isolated Case
Also according to a Minghui report, Mr. Li Fengyou, the former head of an independent regiment in the South China Sea Fleet of the Chinese Navy, was also a pilot. After retirement he flew commercial airplanes from Sanzao Airport in Zhuhai City. Because of practicing Falun Gong, he and his wife were detained at Zhuhai Brainwashing Center in 2000. Soon after they escaped, his wife was arrested in Wuhan City. Li Fengyou was sentenced to five years in prison. Li Fengyou is steadfast in his belief in Dafa. Therefore, he was taken to a special division and placed under close watch. His child was left alone at home.
Guangzhou Falun Gong practitioner Zhang Guoliang was a young pilot from China Southern Airlines. He was arrested and his home ransacked in August 2004. The court sentenced him to a four year term in April 2005.
Mr. Bai Hongzhi, who was in his sixties, was a pilot colonel who lived on Renhe Lane in Nangang District, Harbin. In May 2002, he was arrested by police and taken to Nangang District Detention Center.
Young pilot Xiao Duan of Sanya subsidiary company, China Northern Airlines and his wife (an airline attendant) were dismissed for telling the truth of Falun Gong in Beijing.
Zhang Yan of Dalian subsidiary company was also dismissed for appealing for Falun Gong in Beijing. Her whereabouts are unknown.
According to the Hong Kong based Chinese Human Rights and Democracy News Center, Yu Changxin, 74, was among the first generation of the Chinese Air Force. He even received an award for contributing to the country. He was a high-ranking instructor at the Air Force Command Institute, and a well-known professor. The text books used by the Air Force Command Institute were all edited and finalized by him. Professor Yu began to practice Falun Gong in 1993 and once assisted in publishing different Falun Gong books and recording materials.
An insider revealed that with direct orders by Jiang Zemin, Yu Changxin was sentenced to eighteen years and is detained in a military prison. His wife Jiang Changfeng was also arrested and sentenced to ten years.
The World Human Rights Organization (WHRO) stated that there is no worse genocide in today's world than the persecution of Falun Gong by the Chinese Communist Party. Everyone who persists in practicing Falun Gong is deprived of their basic human rights, and many lives were taken. This is the norm in today's China.
Yuan Sheng said that the cases known outside of China is only a very minor part of the persecution of Falun Gong practitioners who are pilots, and the tip of the iceberg in the group of Falun Gong practitioners who suffer persecution. He hopes that the international community can see the truth of the persecution of Falun Gong practitioners in China and will listen to what he has experienced. He hopes that they will rescue practitioners in China.