Falun Gong Practitioner Mr. Cao Dong Still Detained and Persecuted After Meeting with Vice President of European Parliament (Photo)
August 04, 2006
|
By a Falun Dafa practitioner in Beijing
(Clearwisdom.net) Falun Gong practitioners Mr. Cao Dong and Mr. Niu Jinping met with Mr. Edward McMillan-Scott, Vice President of the European Parliament on May 21, 2006. The meeting took place as part of Mr. McMillan-Scott's investigation into the Chinese Communist regime's persecution of Falun Gong practitioners, particularly the harvesting of organs from living Falun Gong practitioners and the sale of these organs for profit.
This was the first time a Western dignitary met with persecuted Falun Gong practitioners in Mainland China to learn the truth of the persecution. The meeting took place in Beijing, and is regarded as a milestone. Mr. Scott later published an article detailing his trip in which he pointed out, "The Chinese regime remains brutal, arbitrary and paranoid." He also called for an end to the persecution.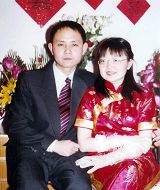 Cao Dong and his wife Yang Xiaojing
After Cao Dong met with Mr. Scott, he disappeared later the same day. It was learned that CCP National Security agents abducted and held him at an undisclosed location.
The law of China explicitly states that the government agency responsible for any arrest must notify the detainee's family via written notice, giving the reason for the arrest and the time and location of detention within 24 hours of the arrest. The length of detention should not exceed one month, after which the detention would be considered illegal.
However, 24 hours has already passed, one month has already passed. It has been two months since Cao Dong's arrest, yet the regime's agency that ordered the arrest has never issued any notice to Cao Dong's family, oral or written, and Cao Dong is still being held against the law. His family went from place to place, including the 610 Office, the police and the National Security Bureau in an attempt to find out his whereabouts. The officials refused to give any reason for the arrest and the location where Cao Dong was detained. They claimed they don't know, or it's the responsibility of another agency, among other things.
Five men and one woman from the National Security Bureau went to Cao Dong's home at No. 704, Section 3, Baozhuzi Alley, Zhaojialou, Beijing, on May 26, 2006 and ransacked it. They never notified Cao Dong's family, did not present any search warrant or IDs or provide a list of items taken, as dictated by law.
Furthermore, they deceived and threatened Cao Dong's family to prevent them from exercising their legal rights. Following are details about Cao Dong:
Cao Dong and his wife Yang Xiaojing were married four years ago. Nine days after their wedding, the couple was illegally detained, sentenced to labor camp and sentenced to prison. They were together not more than a few weeks. Yang Xiaojing is now being held at the Beijing Women's Labor Camp and has not seen her husband for two months. Her parents in Beijing spent many sleepless nights worrying about Cao Dong after his disappearance. Her father experienced severe tinnitus and other symptoms two days later. The doctor said it was the result of tremendous mental trauma and could not be treated with normal medication.
Cao Dong's parents live in Gansu Province. He has a grade-school age sister. His father developed severe heart disease following previous persecution of Cao Dong and his wife. The family dared not tell him about Cao Dong's disappearance, fearing that he couldn't withstand another mental attack.
Cao Dong is innocent! He met with Mr. Scott with a compassionate and open heart. He told the truth about the persecution of Falun Gong he has experienced firsthand and learned from fellow practitioners. In order to maintain its rule, the Chinese Communist regime has lowered the fairness that the law must have to the lowest level possible, but even those laws do not specify that Chinese citizens are forbidden to accept interviews with foreigners or to speak the truth during interviews.
The persecution of Cao Dong is not an isolated case. From a legal perspective, countless innocent Falun Gong practitioners never violated any law, yet the Chinese Communist regime has brutally persecuted them for seven years. Right now, the persecution of Falun Gong is attracting more and more worldwide attention as the biggest and most severe human rights issue. The Chinese Communist Party (CCP), who claims to "rule the country by law" is so evil that it tramples and violates its own laws; so how is it possible for the CCP to follow universal human rights standards? Although the CCP is in the spotlight of international scrutiny, it is still unscrupulous, which will only work to expose the savage and shameless nature of the CCP to the world.
It is difficult to understand the mental pressure and physical torture Cao Dong has undergone. However, he firmly refused to cooperate with the lawless officials and refused to tell them anything. The officials are threatening to continue to detain him and throw him in prison.
We cannot allow this persecution to continue. We call for Dafa practitioners who are aware of it to clarify the truth and rescue Cao Dong and help stop the persecution. We call for all people around the world to pay attention to this issue.