(Clearwisdom.net) Five years ago, Falun Gong practitioner Zuo Zhigang from Shijiazhuang City was taken away by police the day before his wedding and tortured to death overnight. His body was covered in wounds. His parents strongly demanded that his body be stored so they could seek justice. Recently, the Funeral Administration Division of Shijiazhuang City issued a public announcement urging the family to cremate the body within sixty days. The reporter not too long ago interviewed Zuo Zhigang's parents on an international phone call. The couple said that since the person who killed Zuo Zhigang is still at large, Zuo Zhigang's body serves as evidence for the murder. Therefore they absolutely will not permit the body to be cremated.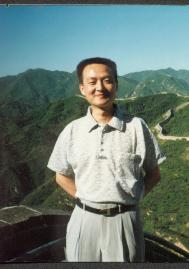 On May 30, 2001, Falun Gong practitioner Zuo Zhigang from Shijiazhuang City was tortured to death one day before his wedding
The public announcement was published on page six of the June 26, 2006 issue of Yanzhao Metropolitan News. The announcement stated, "According to Shijiazhuang City Funeral Management Policy, the following bodies have exceeded their storage term at the morgue. We hope the decedent's families and related government departments will come to the Shijiazhuang City Morgue within sixty days of the issue date of this notice and proceed with cremation affairs. The Morgue will cremate the body after sixty days, and the ashes will be kept for six months." Zuo Zhigang's name is No. 18 on the list. The footnote states that the Xinghua Street Police Station delivered Zuo Zhigang's body on May 31, 2001.
When recalling the condition of his son's body five years ago, Zuo Zhigang's father said that he saw numerous wounds and especially two obvious wounds on each side of the neck with blood surrounding them. On his lower back around the waistline along the spine were two deep holes about 0.25 inches wide and about 1.3 inches apart. His back was black and blue, and there were bumps on the face and chin from being hit by a blunt object. Both ears were black and blue. When he asked the police about the cause of his son's death the police answered, "Zuo Zhigang committed suicide by hanging himself."
Zuo Zhogang's parents say that it's absolutely impossible for their son to have committed suicide because he was going to get married the following day. He also had to take care of his grandmother, who is in her 90s, his aging parents, and an older sister who has a mental disorder.
When Zuo Zhigang's father confronted the police and asked how his son had committed suicide, an officer at Qiaoxi District Police Department said Zuo Zhigang tore his shirt into shreds and hung himself with it on a metal gate. Zuo Zhigang's father said, "We saw that his shirt was intact and was not torn at all." He asked the officer, "Was my son being watched after he was arrested?" The officer answered, "Of course he was watched."
Zuo Zhigang's father pointed out that according to the police, Zuo Zhigang hung from the metal gate, which is 1.6 m high, while Zuo Zhigang is 1.72 m tall. He was also being watched, so how did he get a chance to kill himself? "They are obviously lying."
During the past five years, Zuo Zhigang's parents visited all levels of government including the political and judicial branches within Hebei Province and Shijiazhuang City. They requested an investigation into the cause of Zuo Zhigang's death and to bring the perpetrator to justice. The answer they received was, "We don't get involved with Falun Gong affairs." They also said, "We'd be out of our minds if we meddled with the police department's affairs."
Zuo Zhigang's father said, "We visited many journalists and lawyers. All of them said they cannot do anything because they received orders from their superiors. We appealed at the city police department and the Procuratorate at the provincial and city level, as well as the provincial public security department and disciplinary inspection bureaus. Some of them expressed sympathy but said they couldn't do anything. They said that because this is a big case, it cannot be resolved within a short time. Some officials simply said, 'We don't get involved in anything that has to do with Falun Gong.' Some bureaus refused to even meet with us. All in all, they don't care."
Although Zuo Zhigang's parents have not found justice after five years of continuous appeal, the police constantly harass them. Their home phone is tapped around the clock and they are followed whenever they leave home. At around 5:00 a.m. on May 21, 2006, Zuo Zhigang's mother went out for a morning walk. Police intercepted her, waiting in a stairwell. Several brawny men forced her to go back home. They also tried to barge inside her home, but she firmly refused to admit them. Li Jun, deputy head of the Yuhua District Police Department in Shijiazhuang City directed the persecution on-site, and they falsely insisted that Zuo Zhigang's mother was going far from home. Li Jun brought about six police cars and a large group of police officers as if they were facing a great enemy. A police car still remained until May 23, and the police watched Zuo Zhigang's parents from right in front of the building. They openly followed the older couple whenever they left home.
"The people in power can arrest and hurt people at any time, anywhere. They are always monitoring our phone. I'm not afraid. Our son is dead, and we are old. If they want to kill us also, so be it. Our life is already extremely difficult," Zuo Zhigang's father said angrily.
Zuo Zhigang's father Zuo Yaoxin is 72 years old, and his mother Zhang Zhuting is 68 years old. After Zuo Zhigang died, his parents had to take care of themselves and their mother as well as a daughter with a mental disorder. The parents only have a small pension. Zuo Zhigang's father has to do temporary jobs to make ends meet.
Zuo Zhigang worked as an engineer at the Shijiazhuang Television Factory. After he was laid off, he repaired computer monitors at the Phillips Corporation at the Ruiguang Computer Company. He got along very well with his colleagues and was very considerate of others. He often fixed electronics for others free of charge. He was very popular and well liked.
The reporter attempted to phone the places of employment responsible for the persecution of deceased Zuo Zhigang on the morning of July 14, 2006, Beijing time. These people included the head of the Politics and Security Division at Qiaoxi Police Department in Shijiazhuang City; Zhao Xinjian, deputy head of Qiaoxi District Police Department in Shijiazhuang City; Yi, political head at Qiaoxi District Police Department; the Shijiazhuang City Funeral Administration Division, Shijiazhuang City People's Procuratorate; and Xinghua Street Police Station in Shijiazhuang City (name later changed to Weiming Street Police Station for fear of punishment). All of the phone numbers were either disconnected or not answered.
Zuo Zhigang's parents emphasized that if those responsible for their son's death are not prosecuted and brought to justice, they absolutely will not allow the body to be cremated, because it is evidence for the murder.