Imprisoned Falun Dafa Practitioner Liang Zhenxing, Who was Involved in TV Truth-broadcasting, Is in Critical Condition from Persecution
June 08, 2006
|
By a Falun Dafa practitioner in China
(Clearwisdom.net) It was just learned that practitioner Liang Zhenxing, who was involved the "March 5, 2002" TV truth broadcasting incident is in critical condition from persecution in the Siping Prison, Jilin Province.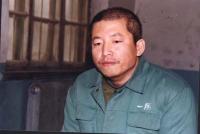 Liang Zhenxing in prison in March 2002
Mr. Liang Zhenxing has so far been in the Siping Prison since his transfer from the Tiebei Prison of Changchun City in late 2005. The prison officials have repeatedly rejected family visits without providing any reasons. On May 12 or 13, when his family members went again to the prison to visit him, the prison officials finally permitted them to see him briefly. Liang Zhenxing had by then been on a hunger strike to protest the persecution. According to prison officials, the hunger strike had been going on for five or six days. The next day Liang Zhenxing was sent to a hospital in Siping City. With strong requests from Liang's family members, they were once again permitted to see him. About seven police agents were present during the visit. The family members asked to bail him out for medical treatment but their request was refused, with no explanation given.
Recently, after negotiations with prison officials, these persecutors agreed for some of Liang's family members, except his wife and daughter, to come "help and educate" him. They also said Liang's life was in danger. More investigations are needed.
Liang Zhenxing was sentenced to 19 years in prison because of the "March 5, 2002" TV truth-broadcasting incident in Changchun. He has already been detained for four years. Before Liang Zhenxing was illegally sentenced to prison in September 2002, the persecutors incarcerated him in the Tiebei Detention Center. While he was held there, the officials subjected him to interrogations every two to three days. They always blindfolded him before taking him out for interrogation. Each time he returned, he was covered with wounds. The interrogation place is thought to be located at Jingyuetan, Changchun City. There is a secret room for inquisition under torture. Liang Zhenxing suffered from all kinds of tortures in that room.
After Liang Zhenxing was sentenced to prison he was transferred to several prisons, from the Jilin Prison to the Tiebei Prison, then to the Siping City's Shiling Prison. Information about his suffering in these prisons is emerging. Since his transfer to the Siping Prison his contact with the outside world was cut off. Whoever tried to talk to him or even wanted to have a look at him would suffer a brutal beating. They tormented him mentally in very cruel ways.
Siping Prison:
Operator: 86-434-5462364, 86-434-5463712, 86-434-5462211, 86-434-5462212
Yin Shoudong, Education Division: Ext. 9950 (Office)
Geng Mingcai, Education Division: Ext. 9920 (Office)
Prison Political Section: Ext. 9663
Li Zhiqiang, Prison Political Section: Ext. 9819 (Office)
Li Guojun, Prison Political Section: Ext. 9788 (Office)
No.11 Ward: Ext. 9667, 9634, 9668
Yu Lixin, head of the No.11 Ward: 86-434-6161569 (Home)
Chen Guomin, Education Section: 86-434-6166111 (Home)
Lan Lijun, assistant to the prison head: 86-434-6112116 (Home)
Ji Shenggang, vice chief of the hospital: 86-434-5469007 (Office), 86-434-3626079 (Home)
Li Wendong: 86-434-5469002 (Office), 86-434-3209787 (Home)
Liu Xiangwu, in charge of the prison building: 86-434-5469008 (Office), 86-434-6167899 (Home)
Jiang Xinbo: Ext. 9866 (Office), 86-434-5469005 (Office)
June 4, 2006