(Clearwisdom.net) Led by director Li Jun from the Jilin Education Department and managed by director Zheng Xun from the Office of People's Affairs, many officials are involved in persecuting Falun Dafa practitioners at the universities throughout Jilin Province.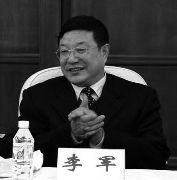 Li Jun, Director of the Education Department and Secretary of the University Working-Committee
Recently the Jilin Education Department has persecuted Falun Gong practitioners at the universities in the following ways: stopping their wages, threatening expulsion, forcing them to write a Guarantee Statement, and sending the practitioners who refuse to write a "Guarantee Statement" to brainwashing centers.
Li Jun started at the Jilin Education Department in November 2003. As soon as he was in office, he issued an order to target the Falun Dafa practitioners that worked or studied at Jilin universities and had not been persuaded to give up the practice. In the document, all universities in Jilin Province were told to "transform" 100% of practitioners by the end of 2005. Soon after, many practitioners were suspended from their jobs and their salaries were stopped. For example, in Changchun City authorities at Northeast Normal University and the Chaoyang Local Police Station apprehended teacher and practitioner Mr. Wang Huilian and took him to the Heizuizi Forced Labor Camp for "re-education through forced labor." Also, after teacher Ms. Lui Xin, from the Changchun University Chinese [Language] Department, was released from a labor camp, she had to leave her job due to unbearable harassment from the university managers.
Therefore, we are suggesting to the staff of the Education Department and the universities in Jilin Province, who participate in persecuting Falun Gong practitioners, that you should follow your consciences and do what is right during the unprecedented persecution so that you will have a bright future. Don't be enticed by immediate but temporary benefits. You should clearly distinguish good from evil and stop persecuting Falun Gong practitioners.
The following are the names of people implicated in the persecution:
Li Jun, Director of the Education Department and Secretary of the University Working Committee
Wang Qinglu, Deputy Director of the Education Department
Yu Xingchang, Vice-secretary of the University Working committee and Deputy Director of the Education Department
Liu Yongbing, Vice-secretary of the University Working committee and Deputy Director of the Education Department
Gao Biao, Supervisor and Head of the Discipline Inspection Commission, Jilin Education Department, and e Secretary of the University Working-Committee
Chi Xuezhi (female), Deputy Director of the Education Department
Che Xiulan (female), Deputy Director of the Education Department
Zhu Chenghua, Deputy Supervisor of the Education Supervisory Team from the Jilin People's Government
Qu Hanqing, Patrol Assistant of the Education Department
The University Education Office of the Jilin Education Department:
Jin Guoqing
Sun Lihai: 86-431-2728732, E-mail: gjcslh@163.com
Song Hui: 86-431-2728732 (fax), E-mail: songhui789@tom.com
The Address of the Jilin Education Department and its Phone Numbers:No. 1485, People Venue, Changchun City, Jilin Province, Zip codes: 130051Telephone: 86-431-8905305; 86-431- 8905305 (fax); Email: Jle@mail.jledu.jl.cn