Falun Dafa Practitioner Ms. Qu Ping From Dalian City Dies from Persecution (Photo)
June 27, 2006
|
By a Falun Dafa practitioner in Dalian City
(Clearwisdom.net) Falun Dafa practitioner Ms. Qu Ping from Dalian City, Liaoning Province was illegally arrested and held in detention centers and labor camps many times because she persisted in her belief in Falun Gong and its principles of Truthfulness-Compassion-Tolerance. She suffered tremendous physical damage from the tortures and passed away on May 22, 2006 at the age of 51.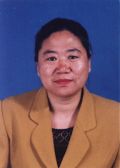 Qu Ping was born on August 11, 1955. She was a salesperson at the Liangjiadian branch of the Jinzhou Division of the Dalian City Post Office. She started practicing Falun Dafa in 1997. After the wicked Chinese Communist Party (CCP) started persecuting Dafa, Qu Ping went to Beijing to appeal for Dafa in October 1999. She was detained for a short time. Her superiors illegally fired her on November 11, 1999, claiming she had not applied for leave of absence and had missed 18 days of work "for no reason."
Qu Ping was sentenced to two years of forced labor in July 2000, because she persisted in Dafa practice and was sent to Masanjia Forced Labor Camp, which she left in May 2001. She then lived a homeless life to avoid further persecution.
Qu Ping went to Masanjia Forced Labor Camp in August 2001 to visit her sister-in-law who was also being persecuted for her belief in Dafa. A taxi driver reported her because she distributed Dafa truth clarification materials in the local area. The local police then arrested her. Qu Ping held a hunger strike to protest the persecution. Several days later, officers from the Liangjiadian Police Department picked her up and took her to the Jinzhou District Detention Center. While there, Qu Ping held a hunger strike for more than two months and eventually broke free using the power of righteous thoughts. About one week after she went home, officers from the Liangjiadian Police Department went to her home trying to arrest her at midnight. She hid in the closet, so the police didn't find her. Police took her non-practitioner husband and held him for a few days. Qu Ping again left home and became homeless to avoid further persecution.
In the winter of 2003, after a long time of living away from home, Qu Ping went to Kuiying Street in Dalian City to visit her mother who was in her 80s. Sun, Wang and other officers from the Liangjiadian Police Department and a dozen other officers including Huang from the Kuiying Street Police Precinct were waiting outside the home. They broke inside and tried to arrest Qu Ping. Huang from the Kuiying Precinct hit Qu Ping's mother. Qu Ping had no way to escape and was forced to jump down from the second floor, but she could not move when she landed. Despite her condition, the police officers put her in a police car and drove her away.
At around 7:00 p.m. when it was dark, Qu Ping's nephew returned home and saw a person lying by the side of the street near Qu Ping's mother's home. He went up to the person and saw it was Qu Ping. Her family later thought that the police realized Qu Ping was critically injured and didn't want to take any responsibility for her, so they tossed her in the street.
With help from other practitioners in the local area and with her indestructible faith in Dafa, Qu Ping began to move and gradually recovered her ability to walk. Her spine however, didn't recover and remained bent. Qu Ping continued to do well with the three things required of Dafa practitioners.
On October 10, 2004, Qu Ping went home to Liangjiadian. While she was with her sister, agents from the Liangjiadian Police Department arrested her later in a local store. Many people were present and Qu Ping tried her best to clarify the truth to them throughout the process. Qu Ping was first sent to the Jinzhou Detention Center and then to the Masanjia Forced Labor Camp.
Following the arrest Qu Ping started a hunger strike and persisted to clarify the truth to the guards. She sang "Falun Dafa is good" and "Coming for You," among other songs while being taken to the Masanjia Forced Labor Camp. Some guards were truly moved, and some guards said in private that Qu Ping is great!
Qu Ping went through a physical exam at Masanjia. Her urine was clotted and semi-solid, and the labor camp authorities refused to take her. She was sent back to Liangjiadian and went home. Afterwards, officers from Liangjiadian Police Department harassed her many times. She moved to a place near her mother's home. She passed away on May 22, 2006 after a long time of persecution.
***********************************************************************
Qu Ping's sister, brother and sister-in-law were all detained for their belief in Dafa. Her brother Qu Lianxi is still being held at the Huazi Prison in Liaoning Province. Qu Ping's father passed away during the persecution after living in fear and worry for a long time.