(Clearwisdom.net) On April 20, two initial sources that revealed the CCP's atrocities of harvesting organs from living practitioners made their first public appearance in Washington D.C. to condemn the CCP's practice of transferring eyewitnesses, destroying evidence, and deceiving the international community. This news heated up the already hot topic on the Yale campus.

Observed by media, staff of Yale President's office accept 2400 signatures collected by the Yale Falun Gong club
Media Focuses on Campus Appeal Activities and Signatures Delivered to Yale President's Office
The activities of Falun Gong practitioners at Yale before Hu's visit received a lot attention from local media. The New Haven Register reported Falun Gong's activities on April 19 on its front page. On April 20, Channel 8, Fox 61, CNN and NBC as well as many newspapers all focused on New York Falun Gong practitioner Wangqing Huang.
According to Mr. Huang, his younger brother Xiong Huang has been missing for 3 years after having been pursued by Chinese police for two years. It was recently discovered that his record has been deleted from the police's database. Huang is very worried that his brother has become one of the thousands of "unidentified organ donors".

Falun Gong practitioner Wangqing Huang at the press conference
At noon on April 20, in the presence of a number of media outlets, Min Deng, president of the Yale Falun Gong Club, hosted a press conference in front of the Yale President's office and then delivered more than 2400 signatures of Yale students and faculty members to staff member Nina Glickson. Ms. Clickson promised to pass the signatures to the President. All the signatures support an appeal calling on the Chinese Communist regime to open up all its labor camps and prisons for an independent international investigation of organ harvesting claims.
Deng said: "Upon hearing about the organ harvesting from living Falun Gong practitioners detained in Chinese labor camps, we were shocked. We collected signatures to urge Yale President Richard Levin to ask Hu to open all labor camps for investigation. Our appeal has received widespread support on campus and we have collected more than 2400 signatures in just a few days.
Encouragement from a Mainlander
At the rally, Deng read aloud an email from a lady living in Mainland China, who said: "Though I don't believe in Falun Gong, I do believe in freedom of belief. At the same time, I give my highest support to you and all other Chinese who are striving for more rights. After talking with you, I was shocked. I feel you are doing a very difficult job and I sincerely admire your tireless efforts. I signed my name today, and I will continue to support you in my way. Please remember this at your most difficult time: There are many Chinese who understand and support you. I hope that you will keep your noble efforts up till the light shines."
A Christian and Nephrology Doctor's Appeal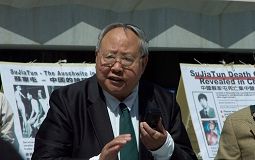 Retired Yale professor physician Yuming Zhang at the press conference
Retired Yale professor Yuming Zhang gave an emotional speech at the rally. He said: "I am a Christian. Though I am not a Falun Gong practitioner, I support your efforts to acquire freedom of belief because Falun Gong is not only fighting for their own rights, they are also fighting for the rights of all Chinese and Americans."
Professor Zhang said that the Chinese Communist regime must stop its persecution of Falun Gong. In the past 50 years, the reign of the Chinese communist regime has resulted in more deaths than occurred in the Sino-Japanese war.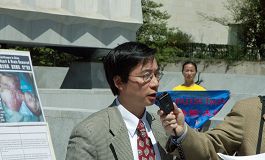 Yale nephrology research faculty member Jianchao Xu at the press conference
At the rally, Yale nephrology research faculty member Jianchao Xu called on his Chinese colleagues to stop harvesting organs from Falun Gong practitioners and urged American patients who are planning to go to China for transplants to think about it carefully before doing so.