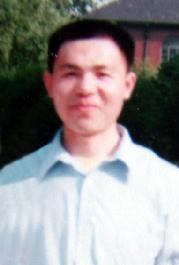 Wu Dianhui
(Clearwisdom.net) Practitioner Wu Dianhui was from Changzhou City, Jiangsu Province. After suffering brutal tortures for over six years, he passed away on February 11, 2006. In order to block the news, Changzhou City Public Security Bureau, together with the Shanghai City Police, illegally prohibited his classmates and friends from visiting his devastated wife, children and parents in Changzhou.
Mr. Wu Dianhui was thirty-four years old. He was originally from Ningyang County, in Shandong Province. He worked at the Changzhou Normal School (before it merged with Changzhou Engineering Institute in 2003). He and his wife both practiced Falun Dafa. After July 1999, when Jiang's regime publicly started the persecution of Falun Gong, the previous president of Changzhou normal school, Li Minmin, actively cooperated with the Communist regime to persecute Falun Gong. As a result, Wu Dianhui and his wife soon became targets of the evil persecution.
After suffering for over six years, the family has been rendered penniless. Wu Dianhui's wife, Zhang Wuying, his five and half-year-old son, and his parents, who do not have any income, are living a difficult life. Currently, the officials at Changzhou Engineering Institute are undecided about how to deal with Wu's torture death. Some officials even secretly prohibited Wu's colleagues from visiting his family.
In October 1999, Wu Dianhui, his wife and another colleague were arrested in Tiananmen Square. They were placed into a police van. The police pulled down the curtain and beat Wu Dianhui. After being transferred to Changzhou City Public Security Bureau, they were sent to a brainwashing class. There, the vicious perpetrators forced Wu Dianhui to stay in a squatting position without leaning on anything for three days straight. The family had to pay all of the expenses of the brainwashing class, but the food was terrible. Later, Wu Dianhui was assigned to cut trees, clean bathrooms, and pick up garbage, even though he was technically trained. His wife was assigned to copy and print (even during pregnancy and breast-feeding). In addition, Li Minmin violated Wu's contract, yet refused to report to human resources for Wu Dianhui. He also refused to pay a 100,000 yuan housing reimbursement, which was written into the agreement.
From early 2000, Li Minmin illegally deprived Wu Dianhui and his wife of their rights to work, causing them a huge loss of income. Various unfair treatments led Wu Dianhui and his wife to appeal to the Chinese Appeals Bureau. However, Wu was arrested by the Changzhou Public Security Bureau (his wife was not arrested because she was pregnant). Upon his release from the detention center, Wu Dianhui and his wife were forcibly taken to the Changzhou Liberation Army's 102 Mental Hospital. His wife was tied to the bed, injected with drugs and force-fed, even though she was over five months pregnant.
In early July 2000, Wu Dianhui was walking in a park with several Dafa books in hand. Because of this, he was detained by the Changzhou Public Security Bureau. He was not released until one month before the birth of his son. The Changzhou Public Security Bureau threatened them and forced their landlord to discontinue renting an apartment to them. Li Minmin ordered security to strictly monitor Wu Dianhui and his wife around the clock. Even when his wife was in labor, they still monitored the family all the way to the hospital. Two incidents occurred when their baby was only six-months old. They were on their way from Shandong to Changzhou when they were stopped by police from Changzhou City and Shandong Province. The police took both parents and the baby to the police van. This incident took place when the baby was six months old. The baby's head and legs were injured by a car door.
On May 1, 2001, Wu Dianhui was on his way back from visiting his classmates in Shanghai. For no reason he was arrested by Li Minmin and staff from the Cuizhu Security Office and taken to the "strictly-monitored team" of Fangqiang Farm in Dafeng City, Jiangsu Province. He was detained and tortured there for two years. During the detention, the police shocked him with electric batons, which burned his skin. He was forced to do intensive labor during the day and was deprived of sleep at night. Very frequently he was put into solitary confinement, handcuffed, chained, and beaten by other inmates (instigated by guards), causing tremendous physical and mental damage. On New Year's Day in 2003, several days after he was released from the detention center, he felt discomfort. After three years of suffering, he passed away on February 11, 2006. He was very strong before July 20, 1999. He participated in a marathon sponsored by the Shanghai travel festival organization committee, and finished twenty-first. He volunteered to be included in the Chinese marrow donation database.
At present, the Changzhou 610 Office is still torturing Dafa practitioners using collaborators. Besides Wu Dianhui, practitioners in the Changzhou area who were tortured to death include Zhou Fengling, Wang Yuqin and Liao Qinying.
Wife of vicious person, Li Minmin: 86-21-52757817 (Cell), 86-13961123811 (Cell)
Secretary of Changzhou engineering institute, Lu Jinna: 86-519-5182982 (Cell), 86-13961182982 (Cell)
President of Changzhou engineering institute, Ma Shushan: 86-519-5186266 (Cell), 86-13706116266 (Cell)
Changzhou City Public Security Bureau: 86-519-6684403