(Clearwisdom.net) On February 18, 2006, practitioners held a Falun Gong information day in Ansbach, a beautiful small town in Bavaria, Germany. Although it is a small town with a population of only a few thousand, local people came in streams to sign their names in support of Falun Gong. Many people stopped to learn about the violations of human rights in China.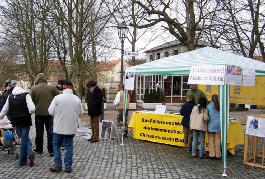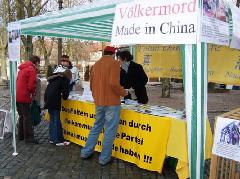 Many people stop to learn about the violation of human rights in China
A senior citizen said after talking to a Falun Gong practitioner, "I understand it very well because I used to live in East Germany under communist rule." Later he signed his name to support the protest against the persecution of Falun Gong and wished practitioners success. A high school student signed the petition and also talked with a practitioner for a long time. He asked for a lot of leaflets and other material that he could distribute among his classmates. He also planned to do a report on Falun Gong at school.
Source: http://www.clearharmony.net/articles/200602/31684.html