New Zealand: Falun Dafa Practitioners Hold Photo Exhibition in Rotorua (Photos)
February 06, 2006
|
By a practitioner in New Zealand
(Clearwisdom.net) On January 25, 2006, practitioners held a photo exhibition in downtown Rotorua, a major tourism city in New Zealand, to help more local people and tourists learn the facts about Falun Gong. An earlier exhibition was successfully held in Paruaharanui Marae for the Maori.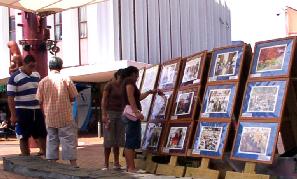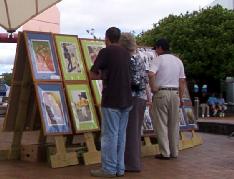 People view the exhibits carefully
| | |
| --- | --- |
| Signing to support Falun Gong | Falun Gong exercise demonstration |
Whenever a Maori practitioner started to demonstrate the exercises, someone she knew would pass by and greet her. She was then able to explain the facts further and help to bring the beauty of Dafa to the Maori people.
The visitors included local residents and tourists from Canada and Germany. When a practitioner heard that a young couple planned to go to China for sightseeing, he presented them with a copy of the Nine Commentaries on the Chinese Communist Party (CCP) in English. He told them that the book exposes the evil nature of the CCP and that more than 7.5 million people have quit the CCP. The practitioner explained further to help them understand why Falun Gong practitioners in China are persisting in their belief while facing the CCP's brutal persecution.
In addition, a visitor asked about the staged Tiananmen self-immolation incident. A practitioner explained to him that this was staged by the CCP to slander Falun Gong. Some visitors asked how they could help since Falun Gong does not accept donations. The practitioner asked him to sign on a signature collection form for "Rescuing Falun Gong Children Being Persecuted in China" and asked him to help more people know the facts.
After viewing the exhibition, many kind-hearted people signed on the visitor's book, "I feel deep sorrow for the Chinese people being persecuted! I wish to help!" Some wrote, "The truth will come out," "The criminals must be brought to justice," and "The persecution must stop!"