(Clearwisdom.net) On September 30, 2001, Falun Dafa practitioner Qi Cangyun from Hebei Province was arrested from the Shijiazhuang City Party School by agents from the 610 Office. He was then taken to the Xinji City Police Department. In the afternoon of the same day, the police savagely beat Qi Cangyun with a large metal pipe, disabling the big and second toes on his left foot and severely injuring the foot itself.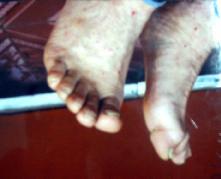 The toes on his left foot are deformed
The police officers also used a wooden club to beat him, knocking out one of his teeth. Qi Cangyun was subjected to brutal and inhuman torture at the Xinji City Police Department and later in a detention center. He was also fined nearly 10,000 yuan. His work unit spent over 3,000 yuan to treat police officers with a banquet and gifts, and eventually bailed Qi Cangyun out of the imprisonment.