(Clearwisdom.net) Falun Gong Practitioner Ms. Li Ping of Dalian City, Liaoning Province, was arrested and imprisoned many times for persisting in practicing Falun Gong. She was imprisoned in Dalian Forced Labor Camp twice and suffered brutal torture. After she had become paralyzed from the persecution, perpetrators Zhang Xiujuan and Xie Xiaoli covered her with three comforters, although it was summer, and put insects on her body to bite her. Because of the evil party's long-term persecution against Falun Gong, Li Ping passed away on November 27, 2005.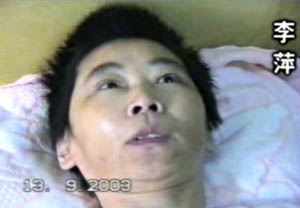 On September 13, 2003, Ms. Li Ping described her experience of being tortured
| | |
| --- | --- |
| The guards and inmates used wood sticks to knock out Ms. Li's teeth | The injury near her tailbone festered |
| | | |
| --- | --- | --- |
| Real format high resolution | | |
| MPG video file | | |
Reporter: The victim is Ms. Li Ping who lived in Xigang District, Dalian City. We are listening to tape recordings of September 13, 2003 from 2 weeks after Ms. Li was released from the detention center. She had been detained at Yaojia Detention Center and Dalian Forced Labor Camp for over 6 months. Scars and marks could still be seen under her armpit and on her back (she was hung up and tortured for extended periods of time). She was carried out on a stretcher when released from the labor camp.
Ms. Li: On February 27, 2003, I went to Yaojia Detention Center to visit my imprisoned sister (who was also a Falun Gong practitioner, but had renounced Falun Gong under pressure at the time) to bring some clothing to her. After they found that I had Master's article with me, I was arrested again and locked into a small cell. They used handcuffs and shackles to fix my limbs to the floor for 6 days and 6 nights. After that, they handcuffed me to a bed. After I went on a hunger strike to protest, they force-fed me through a nasal feeding tube twice a day. The guards also ordered the inmates to beat my face and pour cold water on me. Because of the torture, I became emaciated and could not walk or use the restroom on my own. On April 9, 2003, they carried me on a stretcher to Dalian Forced Labor Camp. The next day, a guard named Han and two inmates (Zhao Xiujia and Xie Xiaoli) pushed me to the floor and wrapped me in a quilt. Then they used a wood stick to pry open my mouth -- two of my teeth were knocked out immediately, while several other teeth were loosened and fell out later. They also tied me up and kept me inside a cardboard box for a month. They beat me up, trampled on my hands, feet, legs, and abdomen. They ran cold water on my face. They hung me three times from the parapet -- I lost consciousness two times. Not satisfied only in persecuting me physically, the guards insulted me and humiliated me by shaving my head, cutting my eyelashes, pulling my pubic hair and nipples, stepping on my genitals and cutting off my pubic hair. They also poured urine into my mouth, put mosquitoes and insects under my clothes and let them bite me. For four and a half months, they detained me inside an iron cage.
| | |
| --- | --- |
| The scars in her armpit | The scars on her knees |
Reporter: Ms. Li Ping, 48 years old, began to practice Falun Gong and "Truthfulness, Compassion, Forbearance" in 1996. From the time the evil Chinese Communist Party started to persecute Falun Gong in 1999, she was imprisoned many times for clarifying the truth about Falun Gong and appealing on behalf of Falun Gong. In April 2000, she was arrested, imprisoned and brainwashed in Dalian Rehabilitation Center for 20 days. She was detained in Yaojia Detention Center three times. The persecutors also detained her at Dalian Forced Labor Camp and Masanjia Forced Labor Camp for 3 years.
Ms. Li: On April 19, 2000, the persecutors sent me to Masanjia Forced Labor Camp. To resist the persecution, I went on a hunger strike. I was locked inside a small cell and tied to a tiger bench (for illustration of this torture, see http://clearwisdom.net/emh/articles/2004/6/12/49036.html). They also force-fed me through a nasal feeding tube. I vomited blood frequently and became emaciated. I lost my ability to take care of myself. Finally, they carried me out on a stretcher and asked my family members to pick me up.
Reporter: Because of the prolonged persecution, Ms. Li Ping died on November 27, 2005. Before her death, she called on kind people and people who believed in justice worldwide to not close their eyes about the persecution and help stop it.
02/10/2005