Israel: Practitioners Hold Parade in Be'er-Sheva (Photos)
February 11, 2006
|
By a practitioner in Israel
(Clearwisdom.net) On January 27, 2006, Falun Gong practitioners held a parade in Be'er-Sheva, the third largest city in Israel, to help the local people learn about Falun Gong. The International Truth, Compassion, Tolerance Art Exhibition was held the following day.
Practitioner's procession
The weather was not good, with occasional rain. The practitioners continued the parade nonetheless. At the front of the procession were "fairy dancers" in Chinese traditional costumes. They were followed by a banner that said, "Truth, Compassion, Tolerance" and a waist drum team.
Along the parade route, practitioners distributed flyers inviting the local residents to view the International Truth, Compassion, Tolerance Art Exhibition. The parade was warmly welcomed and many people came forward to ask for more information.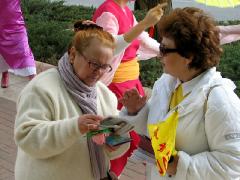 Learning the facts
The city police drove in front the procession, and they all accepted the invitation to the art exhibition and a truth-clarification flyer. When the procession reached the old town, the police left since they had observed the peace and order of the practitionersprocession.

Practitioners dancing
In an open space in the old town, the practitioners performed several dances and gave a Falun Gong exercise demonstration.