(Clearwisdom.net) To celebrate the holiday season and to promote genuine Chinese culture, New Tang Dynasty Television (NTDTV) is presenting its Holiday Wonders show at the Beacon Theater in New York from December 19 through December 24. The first performance on Tuesday was highly acclaimed. With a total of 16 performances, the show reveals the magical nature of China's ancient culture through classic music, elegant dance, delicate costumes and beautiful stage design. The show highlights the essence of Chinese culture-the spirit of "Truthfulness-Compassion-Forbearance." The show won the hearts of all in the audience and many acclaimed: "The show is spectacular! Tonight I have entered a world of myth."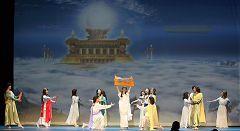 "The Vows of Old"
The show consists of four parts: Myth, Folk Dance and Legends, Solos, and Western Arts. A group of 50 musicians formed an orchestra that included both Western and Chinese instruments.
Beacon Theater
The theater was packed with nearly 2,600 enthusiastic spectators. The crowd was jubilant and enjoyed every performance. The most heard comments were: "I liked every performance, from the music, to the dances, stage screen, costumes. Everything is so beautiful."
VIP Greetings Wish Holiday Wonders a Big Success
Nine New York state senators, assembly members and city councilors delivered congratulatory letters to NTDTV commending their hard work and contributions to the community. They wished the show great success.
Rita Cosby also sent a greeting to the station. She said: "I am Rita Cosby, host and correspondent for MSNBC and I just want to take a moment to say a big congratulations to NTDTV on their amazing Chinese New Year Spectacular. For the fourth year running, New Tang Dynasty brings traditional Chinese Culture to the big stage to delight and educate Chinese and Westerners alike. Their incredible Spectacular has become the number one way for New York families to celebrate the Chinese New Year. So don't miss this year's show at Radio City Music Hall. From all of us here at NBC News, good job NTDTV, keep up the great work."
Robert T. Kiyosaki is well-known for his success in real estate business and his book 'Rich Dad Poor Dad'. He also recommended the Show to New Yorkers: "Hello, this is Robert Kiyosaki. I am very excited about the Holiday Wonders program. There are three easy ways you can buy tickets, through NTDTV hotlines and you can buy tickets to go to the programs. Enjoy a great holiday season plus Chinese New Year."