(Clearwisdom.net) On the afternoon of December 10, 2006, Falun Gong practitioners' waist drum troupe and Celestial Band gave a performance at the National Religion Expo sponsored by the Yunlin County Government. The drummers and the band arrived at the Nansheng Temple in Douliu City. Spectators rewarded the resonant drum beats and music of the Celestial Band with continuous applause. A man took a picture of the band and told the reporter excitedly, "I can feel the righteous energy. This is the first time I have seen such a band."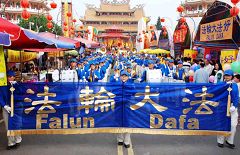 Magnificent Celestial Band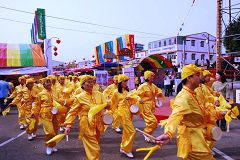 Waist drum troupe marches in high spirits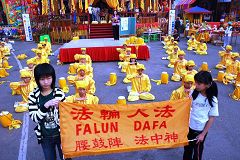 The waist drum troupe demonstrates the sitting meditation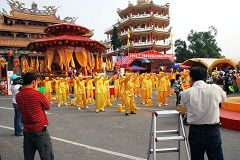 Media photographers take pictures and video footage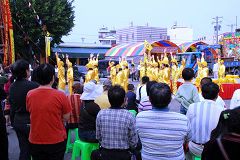 The audience is fascinated by the exercise demonstration

A local Falun Gong practitioner told this reporter that Falun Gong performance teams, including the exercise demonstration team, marching band, waist drum troupe, dragon dancers, lion dancers and dance troupe, have often been invited to participate in celebrations around the world. This was the first time the band and the troupe came to Nansheng Temple. They wished to spread the benefits and beauty of Falun Dafa to every corner of the world. They also wished to show the spirit of traditional Chinese culture to the public.
As the drum beats arose, the waist drum troupe members in golden uniforms lifted their drumsticks and sent energizing drumbeats to vibrate in the sky. Crowds of people turned to watch and listen. Those far away stood on their toes to watch. The hostess stated that the waist drums originated from farmers' harvest celebration dances in North Shannxi. She encouraged the audience to experience the atmosphere of joy and peace and farmers' simple, striving spirit.
Falun Gong practitioners demonstrated the five exercises. Many media photographers and spectators continued to take pictures and video. All were immersed in the peaceful atmosphere of the exercise music as if they entered a section of pure land amidst the noisy celebration.
As soon as the demonstration was finished, another wave of applause arose. Looking to the entrance of the expo, people saw a magnificent band marching to the temple between the two row of booths. The band, dressed in blue uniforms and hats, filled the width of the road. Shiny golden trumpets started the heart-stirring music. The spectators gave them applause and praise.
Falun Gong practitioners holding a "Falun Dafa" banner led the band onto the field. With a long whistle, the conductor held his stick to the sky, and swept it down to start the music with drums. Trumpets, clarinets, saxophones, French horns and flutes created the melody, while the drum beats pushed the momentum to a peak when a practitioner tossed the cymbals to the sky.
A Falun Gong practitioner told the reporter, "The music is called, 'Fa Drum and Fa Trumpet Shake the Ten Directions.' It was written by Falun Gong practitioners." A spectator murmured to himself, "All my bad thoughts are gone."