(Clearwisdom.net) Dafa practitioner Ms. Liu Liyun of Huludao City, Liaoning Province was illegally sentenced to four years imprisonment on December 6, 2001. She was persecuted in the Liaoning Province Women's Prison, and died on July 23, 2002, at the age of 44. The prison claimed that she died from illness and forcibly cremated her body. The following is some information that an insider recently provided about Ms. Liu's death as a result of persecution.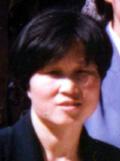 Liu Liyun
In the spring of 2002, Ms. Liu Liyun was illegally imprisoned in the seventh group of the prison. Because she persisted in practicing Falun Dafa, refused to cooperate with the evil's orders, and shouted, "My Master is great, Dafa is great", a guard placed Ms. Liu in solitary confinement. They tied her hands up behind her back, beat her cruelly with electric batons, and provided her with only a tiny bit of food.
Later, Ms. Liu was tortured to her last gasp, and she very much wanted to have a drink of water. A prison guard brought some water over to her mouth and asked her if she would still shout. Ms. Liu nodded her head and said, "Yes." The guard then took away the water.
When prison officials found out that Ms. Liu had died, they immediately fabricated a story. They moved her into a hospital and spread a lie that Ms. Liu had died from a hunger strike. In order to cover up their crime, director Hu and the head of the group directed a criminal to write a fabricated document with his fingerprint on it. They ordered him not to disclose this. The name of the criminal who wrote the fabricated document is Zhang Ping, who was later transferred to the eighth group. The rest of the name of director Hu is not known.
Ms. Liu Liyun was illegally imprisoned three times before her death. In July of 2000, she was imprisoned in a brainwashing session in Yangjia Zhangzi for over forty days. On June 23, 2000, she was imprisoned somewhere in Huludao City for thirty days. In December 2001, she was imprisoned in a detention center in Huludao City. She was sentenced to four years imprisonment on December 16, 2001. Her husband Hu Baochun was sent to a forced labor camp four times. He was persecuted at the Huludao City Labor Camp. After going on a hunger strike for over one hundred days, he was released, as he was at his last breath.
Related articles:
http://www.clearwisdom.net/emh/articles/2002/9/14/26498.html
http://www.clearwisdom.net/emh/articles/2004/11/27/54987.html