Japan: Falun Gong Well Received at "International Culture Night" in Inazawa City (Photos)
November 30, 2006
|
By a practitioner from Japan
(Clearwisdom.net) Falun Gong practitioners in Japan participated in the annual event "International Culture Exchange Night" organized by the International Friendship Association of Inazawa City. On the night of November 25, 2006, they presented a "Flower Fairies" dance and a Chinese folk musical instrument performance -- Chinese flute Solo "Plum Blossoms Blooming in the Snow." They also demonstrated the five exercises and taught people the exercises on the spot afterwards.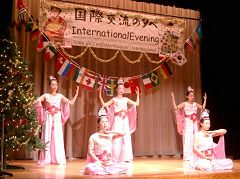 Falun Gong exercises are simple and easy to learn. There are practitioners in over 80 countries around the world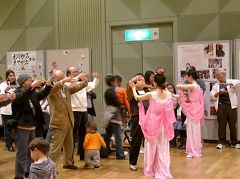 Participants in the event learn the exercises
The population in Inazawa is more than 100,000, and there are about 2,500 foreigners living there. Besides the local Japanese people, foreigners from over a dozen countries including Brazil, China, U.S. and Korea also attended the event. Practitioners introduced the beauty of Falun Dafa to people in Inazawa. The practitioners' "Flower Fairies" dance won people's admiration. During the exercise demonstration afterwards, many people learned on the spot, and the scene was very harmonious.